In this time of great challenges due to the outbreak of coronavirus disease, we of Naples Fabulous wanted to share a post about an extraordinary person who will hopefully bring some lightness to your days. We've been trying to keep our spirits high through reading, music, films and art about Naples and we thought: who better to represent Neapolitan resilience and spirit than this Neapolitan character?
Totò is one of the most beloved figures of the Neapolitan history, art and folklore. But though he has worked with some of the most iconic actors in the history of cinema like Anna Magnani, Vittorio de Sica, Sophia Loren, Mastroianni and movie directors such as Monicelli and Pasolini, many people outside of Italy do not know the work of one of the greatest Neapolitan figures of all time. However, to Italians, he is considered to be one of the most extraordinary comic geniuses of all time.
He went by Totò or simply Antonio de Curtis but actually has an incredibly long name. Starting out as Antonio Clemente, he was born in the heart of Naples – his beloved Sanità – in 1881 to Anna Clemente and the nobleman Giuseppe de Curtis, who never recognized him. He always knew of his noble blood but it wasn't until he was 35 that he was formally adopted by the Marquis Francesco Maria Gagliardi Focas di Tertiveri. Therefore he inherited a long list of names and a noble title, from which comes the nickname "the prince of laughter".
Walking the streets of Naples you'll see icons of his image everywhere, not just in the Sanità. To Neapolitans, Totò represents honour and talent, pride and purpose; he was a champion for the poor and is a symbol of hope. His spirit is woven into the collective conscious of this city and that crooked nose and pointy chin, broken a youth, are as ubiquitous as the landscape of the Vesuvius or the image of the Pizza Margherita or the outline of Capri in the Gulf of Naples. Most bars have a photo or ceramic figure that might be placed alongside an image of the Madonna or Maradona.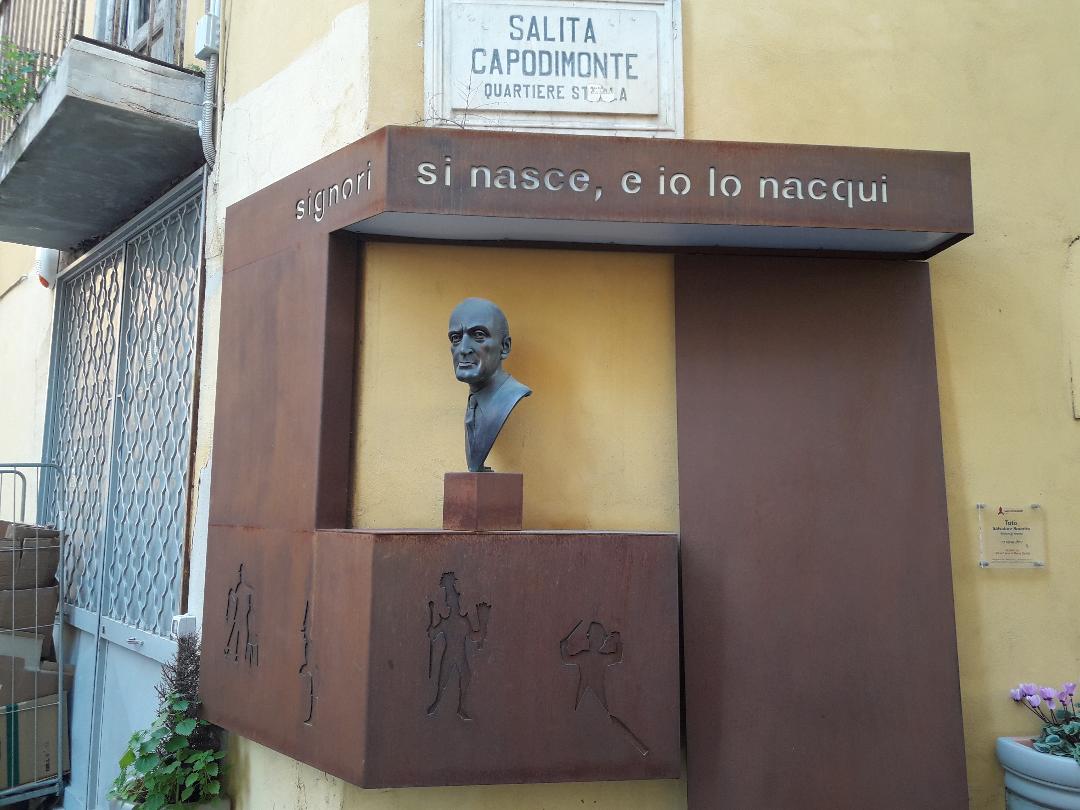 Totò by Salvatore Scuotto 2017 – donated by Rober Lèon
To many he is considered to have achieved a uniqueness in comic-tragic style like that of Charlie Chaplin, Buster Keaton or Stan Laurel. Comparisons have even been made with his physicality and the movement technique of Michael Jackson. He grew up poor with an unparalleled work ethic that would accompany him during his entire life. Long after he achieved fame and celebrity, living the bella vita in Rome, he never lost connection with his roots in Naples and was always committed to helping the poor not only in his beloved hometown but everywhere.
His characters in the over 100 films he performed in were often poor, clever people who would, through his iconic, often improvised puns philosophise on the current state of the world and the human condition. This way of living humour through tragedy is emblematic of the Neapolitan spirit and what makes his prolific career symbolic of the triumph of a man who started his life in utter poverty.
His work, rooted in the Commedia dell'Arte tradition, started in Naples at age 15 and would then take him to the stages of Rome where he'd marry his first wife Diana Bandini Rogliani. A few years prior to making his film debut, he'd have a daughter, Liliana whose name would be a source of speculation. Totò had had an affair with the actor Liliana Castagnola whose haunting suicide would remain a mystery for the duration of his life. Though his marriage was dissolved in 1940, Diana and Totò would remain connected until she met another man and Totò married the much younger Franca Faldini.
He's considered a genius for his comic abilities but his career and art expanded to song writing, music and poetry which had a depth recognised by many and celebrated today. Toto's most famous song is Malafemmena (Wayward Woman), dedicated to his ex wife Diana.
Often when walking the streets of Naples you'll hear a trace of one of his songs or, even better, musicians or posteggiatori will serenade diners at the local trattorias which will almost always lead to a sing-a-long of his famous melody.
Here is one of his poems, also engraved in an inscription outside the historic Caffé Gambrinus: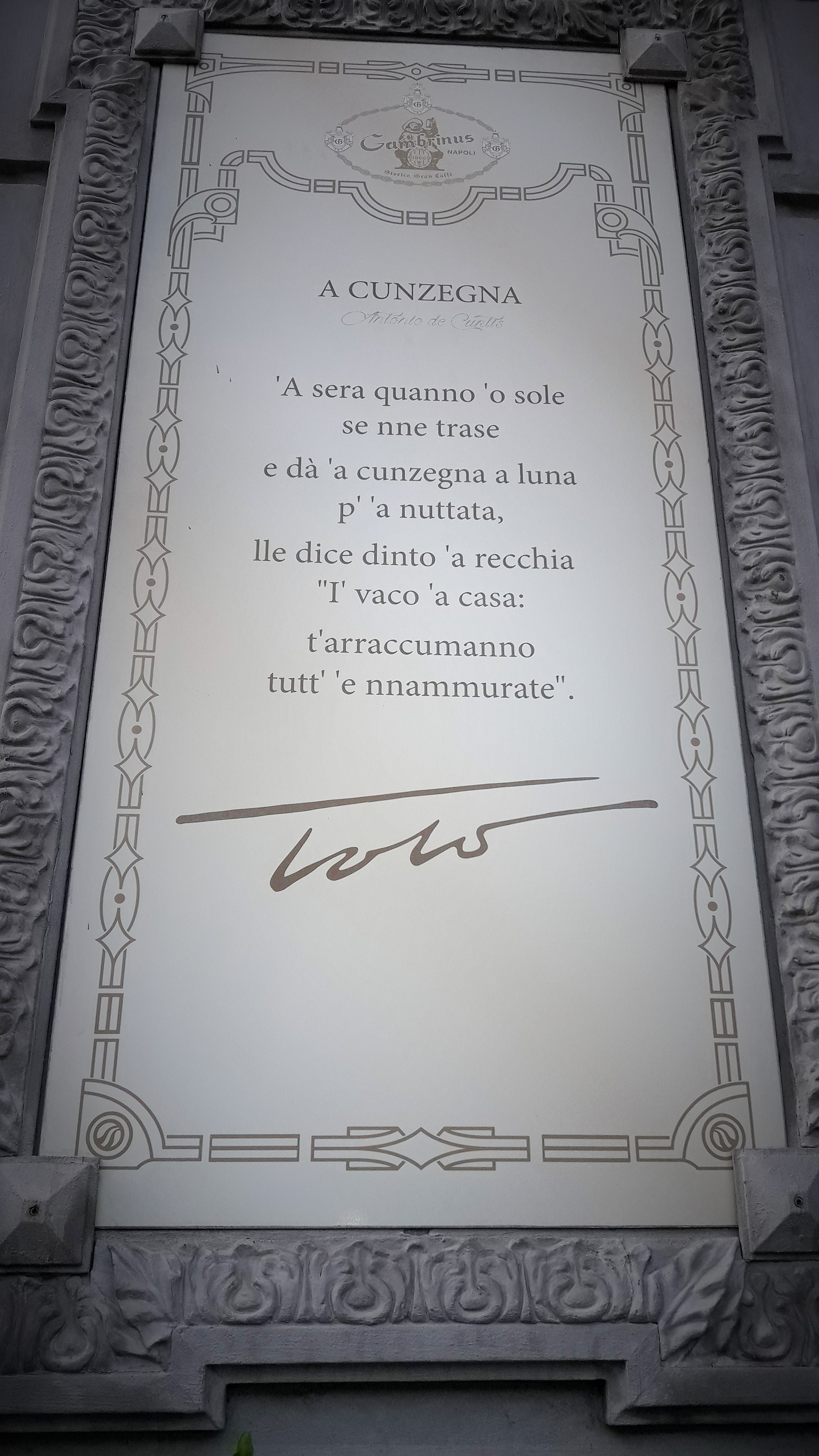 'A cunzegna
The exchange
In the evening when the sun goes back home
And changes shifts with the moon for the night,
The sun whispers in the moon's ear
"I'm going home:
Take care of all the lovers!"
Totò is a link between two generations of Italy. People of all ages (and social strata) fluidly repeated his jokes, his gestures and entire phrases from his film by heart because his genius has just as much relevancy in today's world.
Fifty years later Totò's films still make people laugh, demonstrating the modernity of his humour and some of his characters. He grew up in the densely populated neighbourhood Sanità which was a source for much of his material. As a child he observed his neighbours and the most extravagant people who he would later incorporate into comical characters in his performances. This earned him the nickname of " 'o spione " (the spy).
In Sanità you can see representations of Totò on every wall and there are two large light installations dedicated to him, one of his outline and the other with an inscription in Neapolitan of his delicate love poem "Core analfabeta" (Illiterate heart). They both welcome those entering into Totò's native neighbourhood.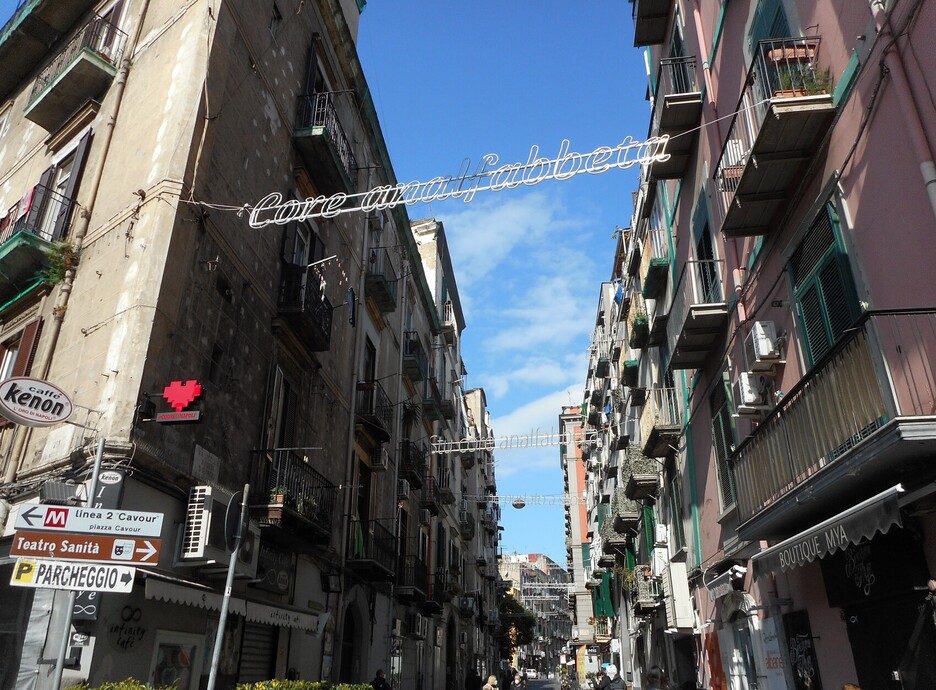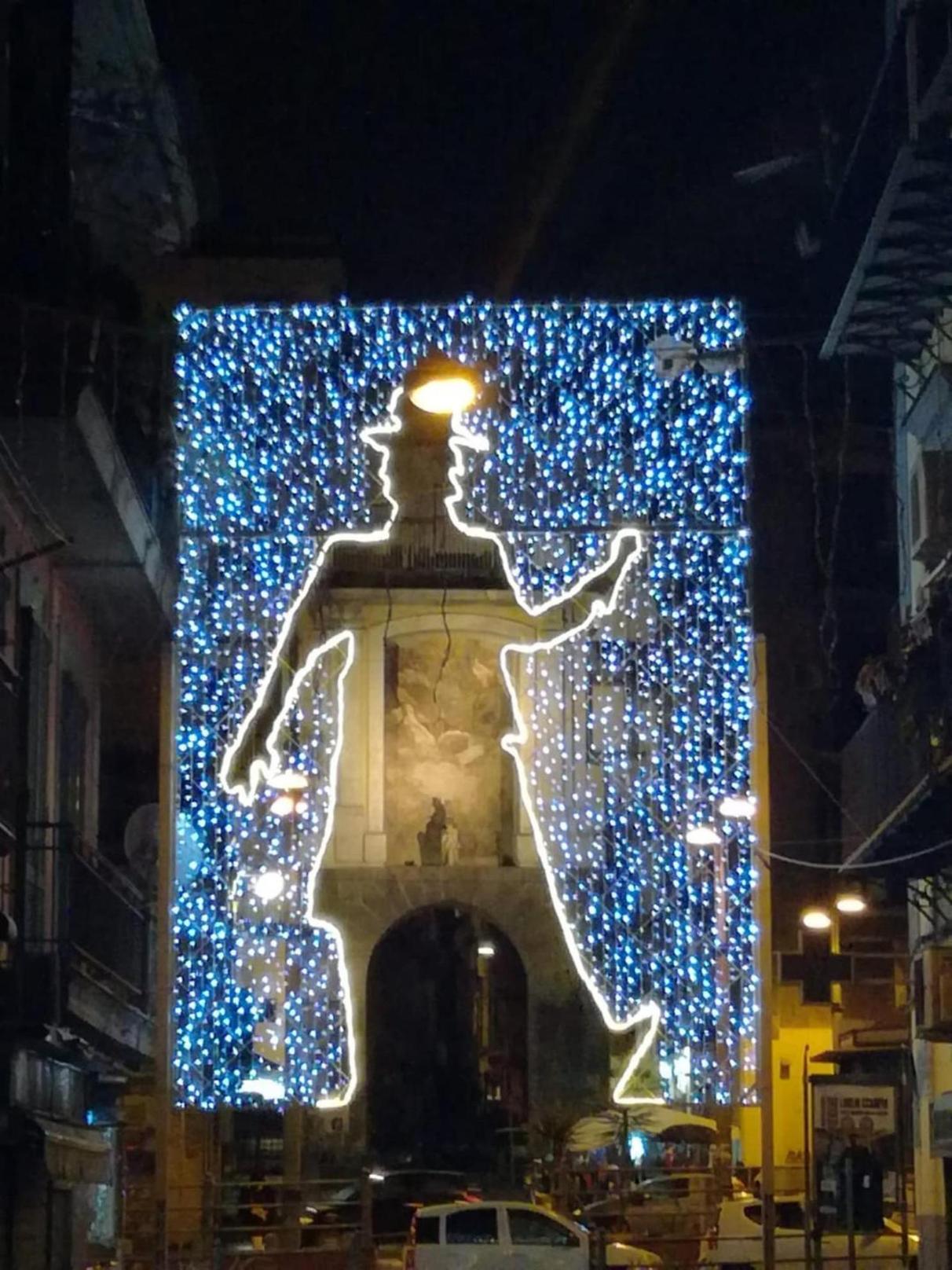 Baroque churches, noble buildings, a bustling market with perfume of delicious food and the voices of the authentic Naples captivate and lead us to the discovery of the many faces of the prince of laughter.
Federico Fellini said "His capacity of making us laugh should make him a saint" and in actuality, our fabulous Naples has sanctified him!
The tarallificio Poppella (taralli are typical Neapolitan savory snacks) celebrates Totò with a mosaic at the entrance to the shop as does the wine bar Sciò with a mural. All of the shops in the area have a photo of him and his cherished films.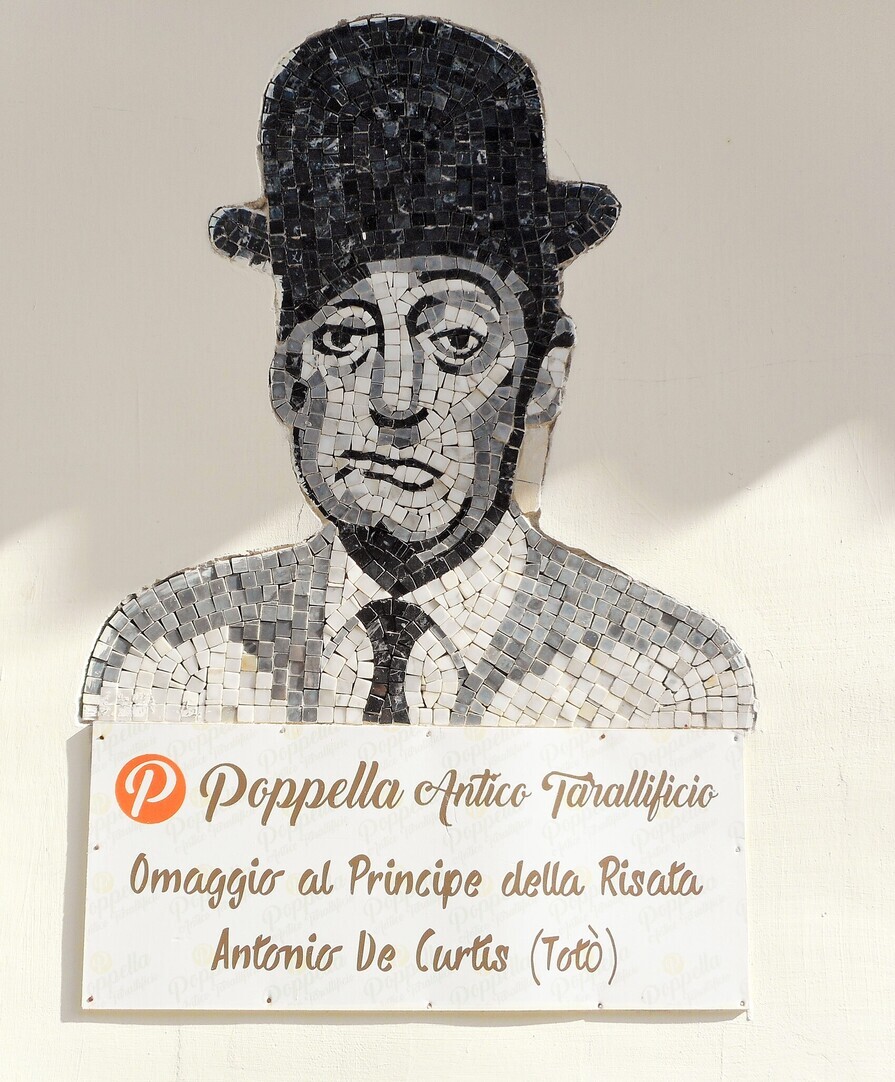 The first "Vicolo della cultura" (cultural alley) in Italy, inaugurated in the Sanità in December 2019 honours him with a wall-painting amongst books free for whoever might want them. The non-profit organisation Opportunity seeks to challenge criminality with culture, colours, light and art. The portrait of Totò is found at the entrance of the itinerant library along with other celebrated Neapolitans such as Sophia Loren, Peppino De Filippo, Massimo Troisi and Pino Daniele.
Yet it is at the Pizzeria e Trattoria Taverna di Totò where we would like to conclude our little homage to this artistic genius.
With happiness and a scrumptious pizza, a delicious potato crocchè and maybe a tasting of a fabulous side dishes of eggplant and friarielli, we will raise a glass to Totò's wonderful legacy in the company of the kind server, always ready to entertain customers with a genuine smile, in the spirit of the immortal prince of laughter.