Alice: Hey, Fiorella! Do you know what one of my absolute favourite things to do in Naples is?
Fiorella: Does it involve food and walking in the side streets of ancient Naples?
Alice: Of course it does, you know me so well. One of the best things about Naples is going food shopping and preparing local dishes with the absolute freshest local ingredients. And while I'm checking out the best produce, fish, bread, and vegetable stands in the historical centre, I love taking in the beautiful streets of this fabulous city and its local artisans. Here I feel that there is always a vicolo to be explored, a conversation to be had. Don't you love those bodegas where time just seems to have stood still?
Fiorella: Naples is a place where people use their hands a lot, not only to gesticulate (body language is so Neapolitan!) but to create crafted items and to work any type of material from terracotta to metal, from cloth to food! And what is amazing to me is to see them at work literally in the street as it used to happen in small villages decades ago.
Take for example Talarico. This store and small factory has been operating since 1860 and after five generations it still makes some of the most artistic and resistant umbrellas I've ever used.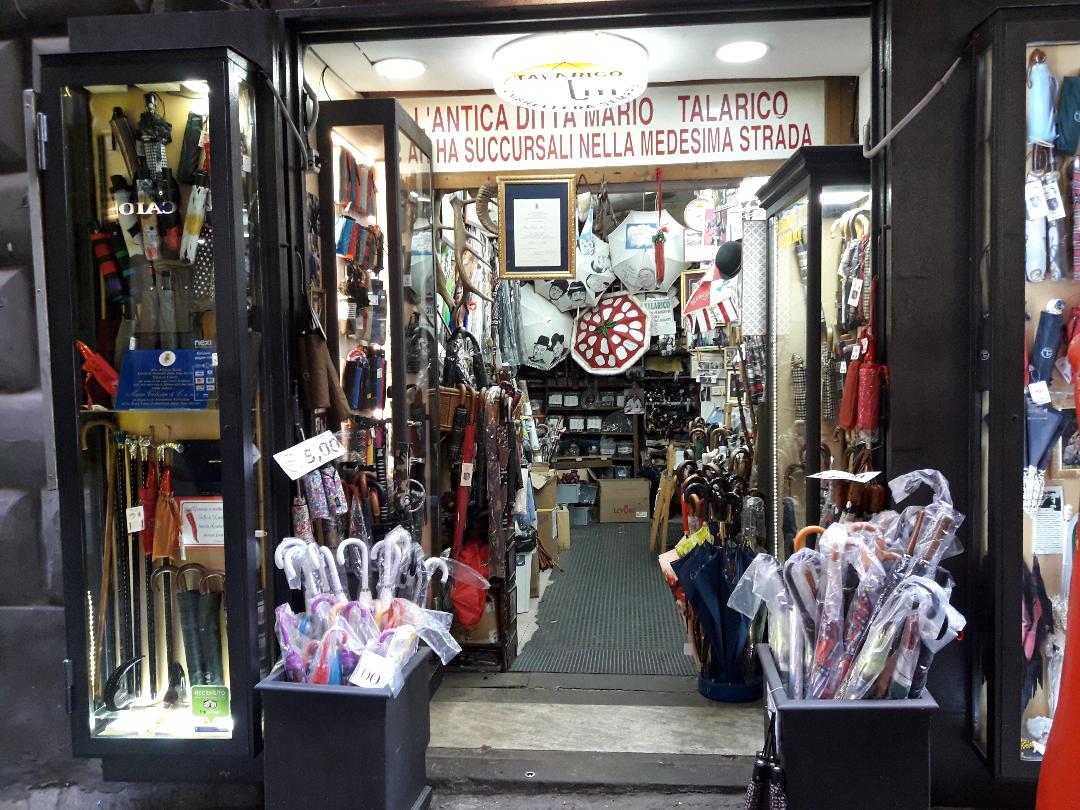 It is a great experience to visit the tiny workshop in vico Due Porte a Toledo where you can see the small worn out wooden desk where umbrellas for internationally known people have been custom made.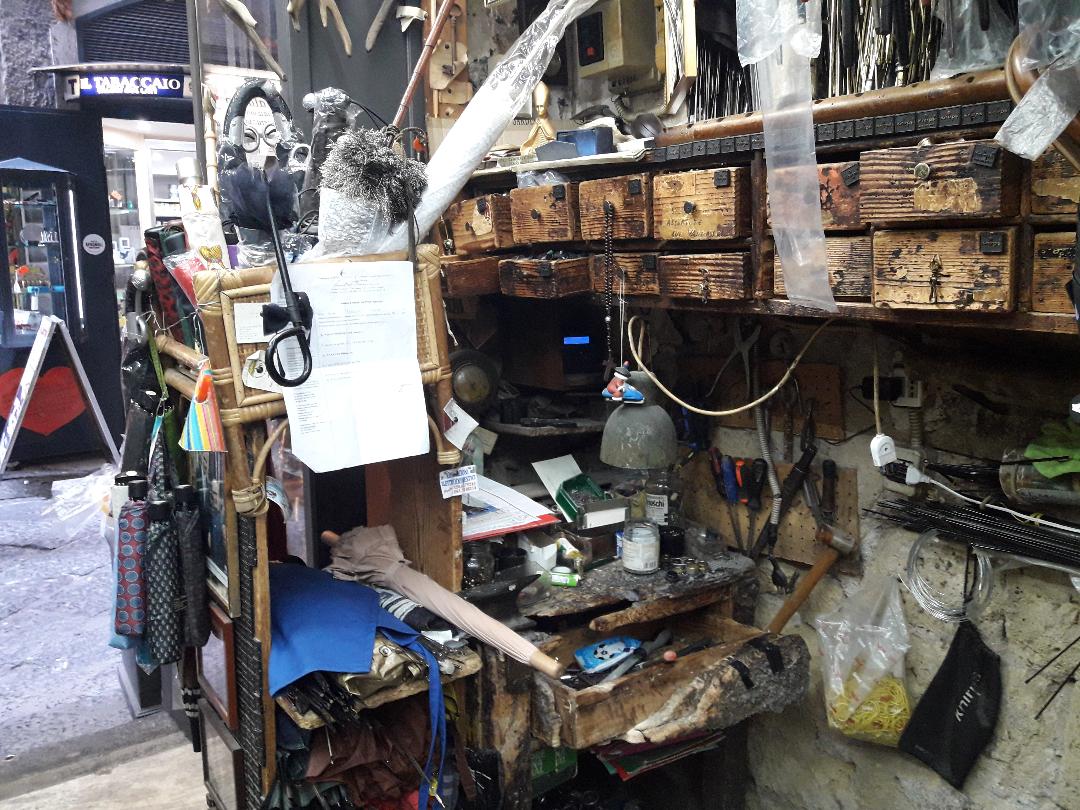 Let's stop by and have a chat with lovely and enthusiastic Mario, junior.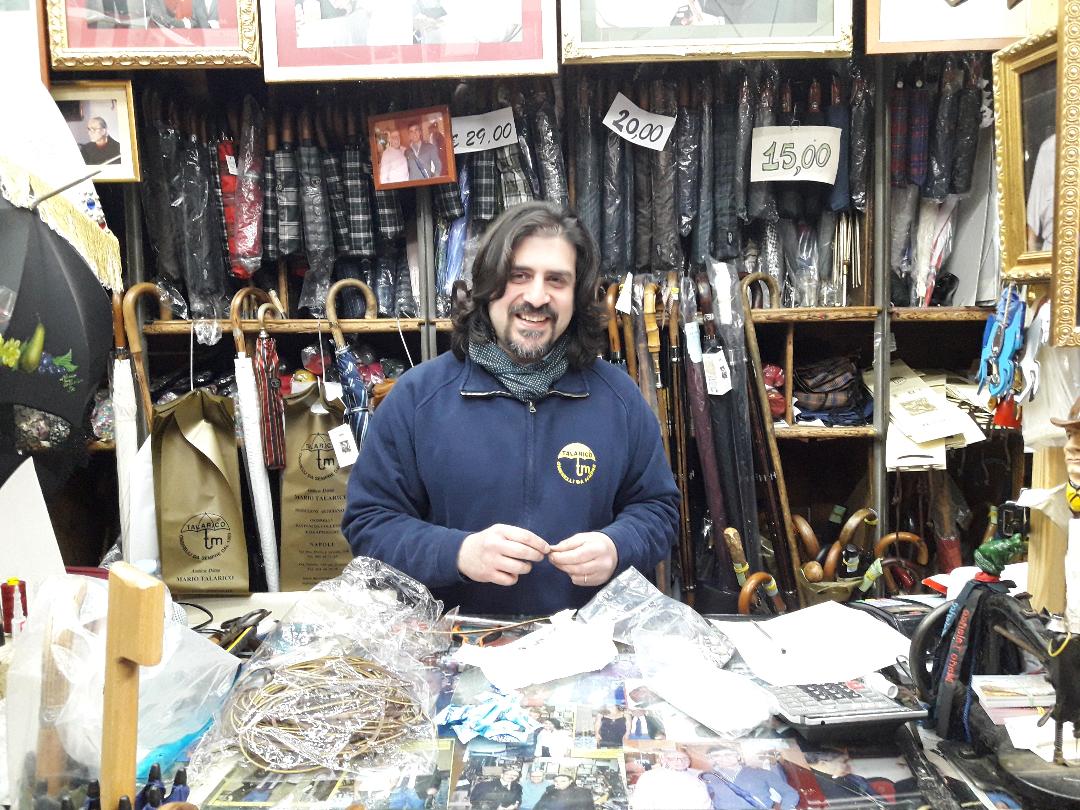 Alice: Sure! I have to thank him! Last year that umbrella saved me with all the terrible weather we had. Today I saw someone in the street with my same Talarico umbrella and we both looked at each other as if to say: we know, this is a fabulous umbrella. What I love about this shop is that you can take your time looking at all the different kinds of umbrellas and Mario is always proud to tell you about the history of his family that I am never tired of hearing.
One of his ancestors was a painter of the Royals, another member of the family a violinist at the San Carlo Opera House, then umbrellas became the frontrunner in the current chapter of the family history.
Fiorella: He talks while both smiling and working on a new piece, but always finds a moment to open a box or a drawer to show you 100 years old handles and knobs in silver, crafted wood or ivory or the silks and fabrics hand painted for a custom made umbrella.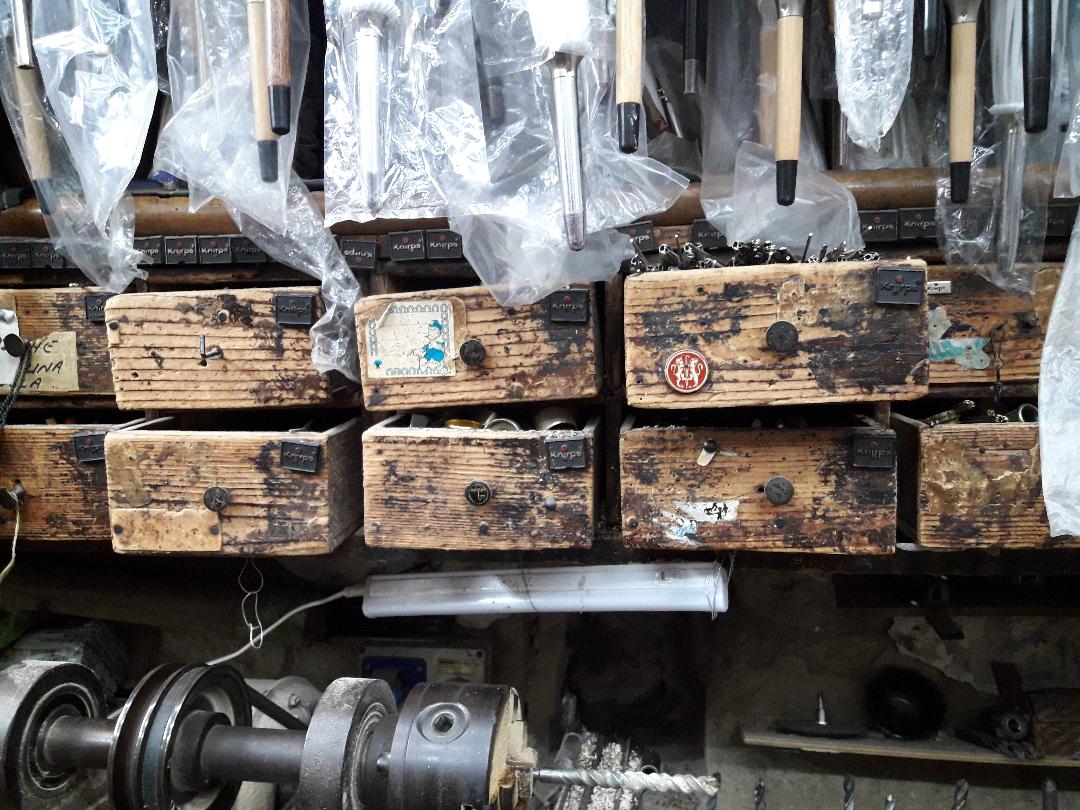 We like these fabulous local spots. While in the Spanish Quarters we have got to stop by the little croissant factory just a few vicoli away from Talarico. Handmade delicious cornetti filled with custard cream and black cherry that just melt in your mouth.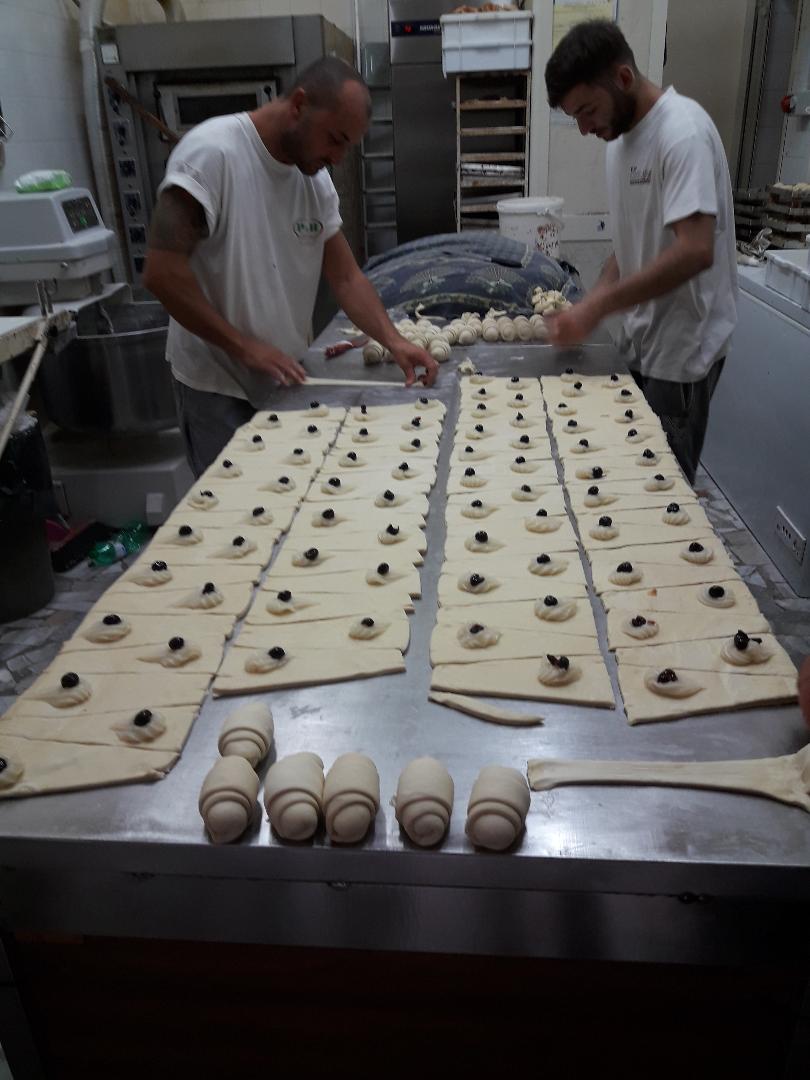 Alice: That would be one of the best starts to a morning of sightseeing and food shopping. Cornetto alla crema, per favore! And the guys of the laboratory are also so nice.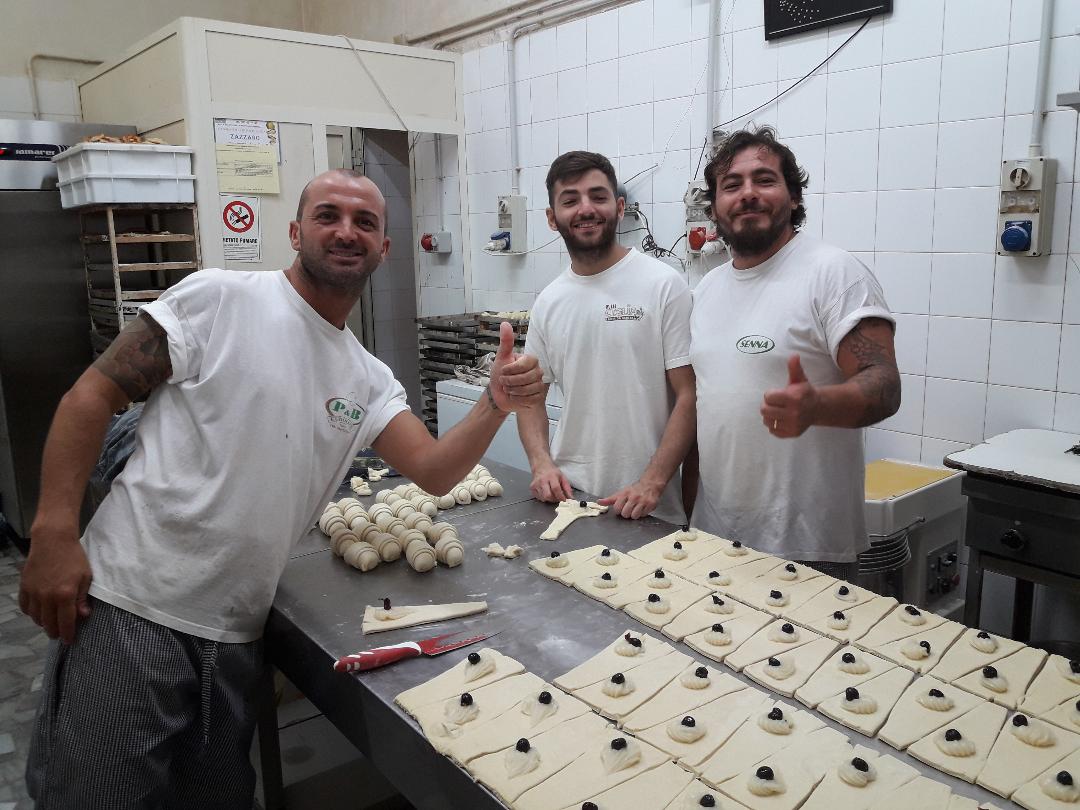 After a cornetto and a coffee we are ready to start again and go shopping at Pignasecca, a must see on our food tours to taste some of the best mozzarella and cheese at our favourite grocery store or fried fish at the Pescheria Azzurra.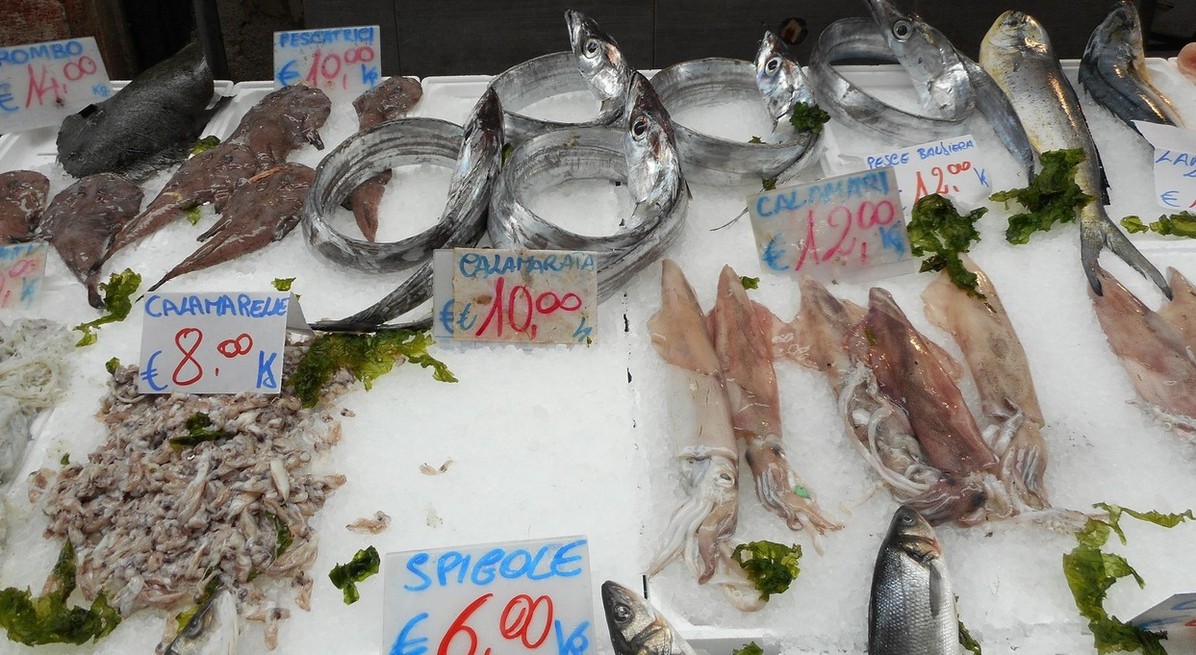 A mandatory stop for the ones who like tripe is Fiorenzano. We are not so keen about tripe, but tripe-experts say this is one of the best tripperie in the city (the other Kingdom of Tripe is the Tripperia O' Russ near Piazza Carlo III).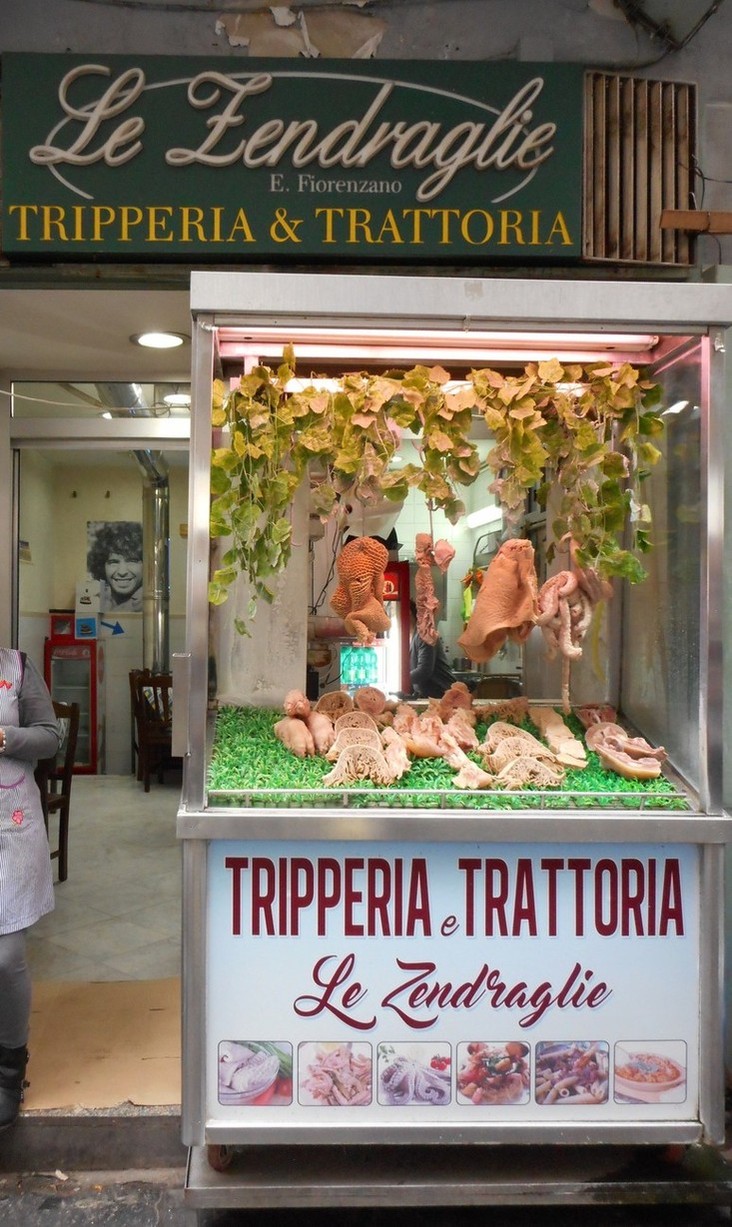 The Tripperia Fiorenzano is also a Trattoria (family run restaurant) named le Zendraglie. The word zandraglia or zendraglia most likely derives from the French word 'les entrailles' which was yelled by the servants of the court when they threw the remainder of the King's dinner from Castel Nuovo (Maschio Angioino) to the people down below.
Common women would crowd beneath the castle to collect the food scraps, thus taking on the name zandraglie.
The word zandraglia in Neapolitan is quite offensive because it means a sloppy, vulgar, noisy and dirty woman but don't let the name put you off-if you like tripe then you'll love this spot!
While walking in Pignasecca and buying some food for a late lunch we will definitely end up in piazza Santa Maria la Nova, which is such a special piazza.
Fiorella: I love the cloisters of Santa Maria La Nova.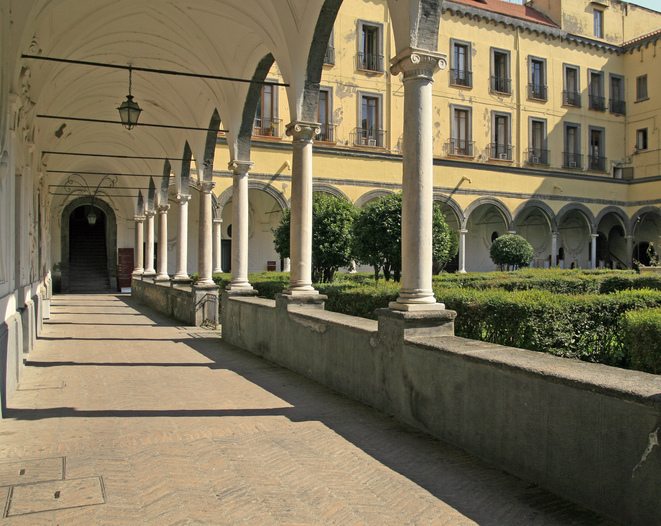 The small one in particular is a fabulous hidden spot.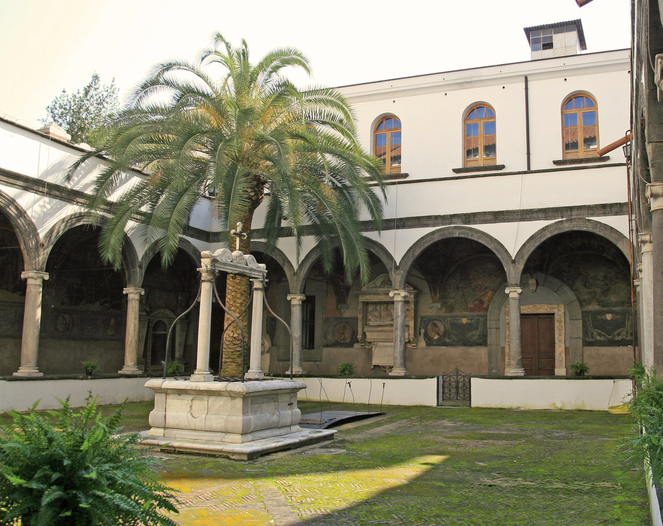 The monastery of Santa Maria La Nova was founded following the wishes of King Charles I of Anjou but the complex was reconstructed by G. Cola di Franco (1596-99) and included two cloisters.
The Grand Cloister, today the seat of the Provincial Council of Naples, is named San Francesco after a long since lost series of frescoes dedicated to the saint.
The light invades the lawns and reflects onto the arcade supported by white marble pillars and the Small Cloister opens like a precious box in front of your very eyes, revealing the many images which all refer to St. Giacomo della Marca. The series of frescoes attributed to A. de Lione and assistants (1627-28), opens with a scene of San Giacomo in the womb before his birth. In the frescoes he is reassuring his mother, urging her not to be frightened of thieves. The life of the saint is told over nineteen scenes, each very elaborate.
Four gates give access to the centre of the small garden where the well is found. This fabulous Franciscan cloister is further enriched by the tombstones and funeral monuments of the illustrious members from the Court of Aragon.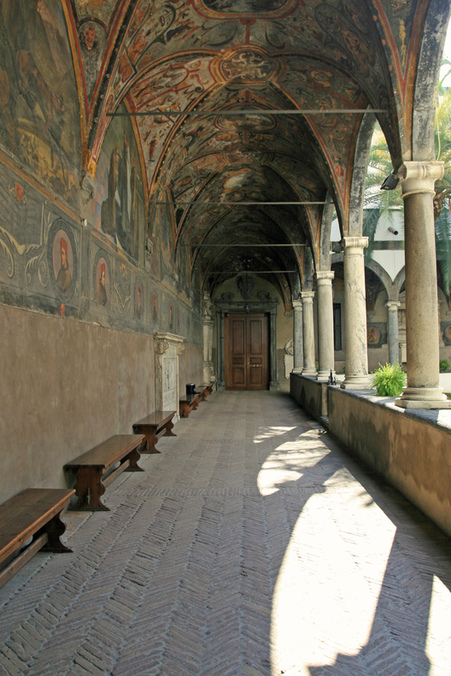 Alice: This is also near a place where I buy the best produce. Let's go to get some tomatoes, olives and capers to make linguine alla puttanesca.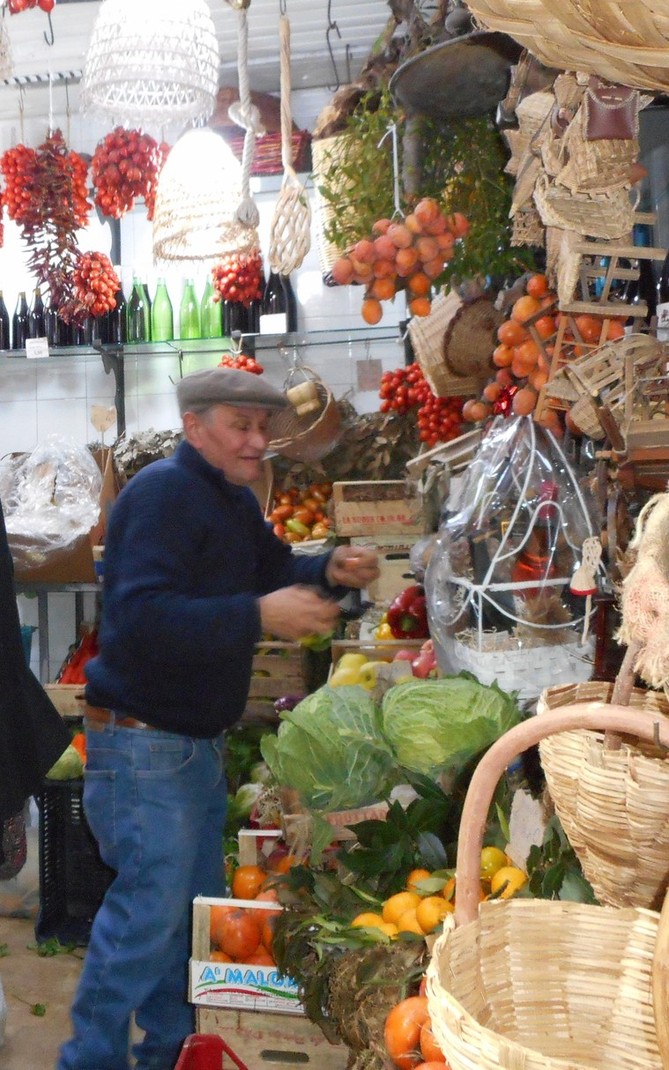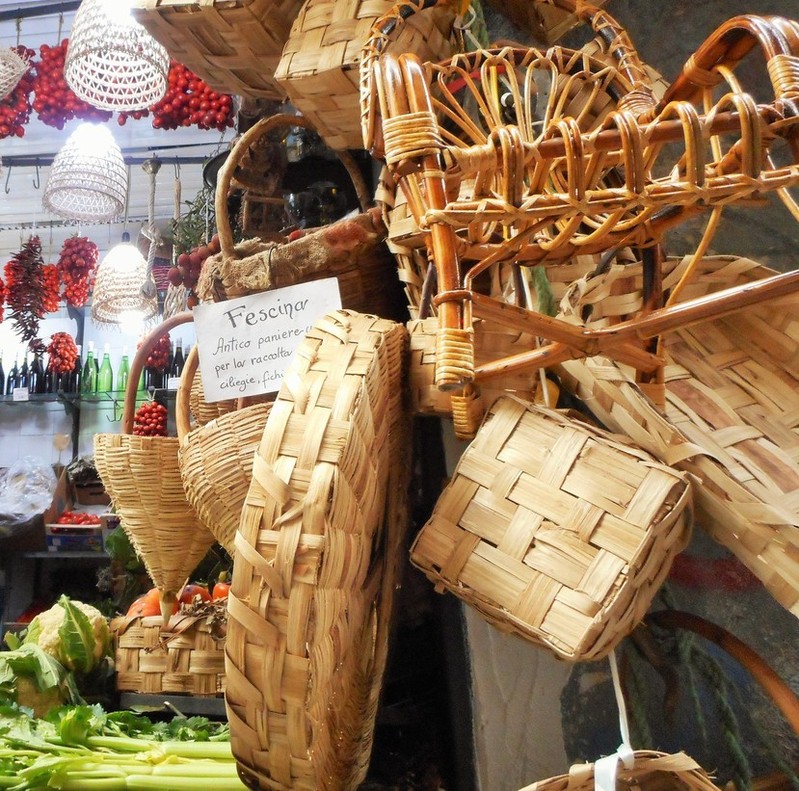 Apart from fresh produce, the best thing about this place is the father and son duo. The father runs the shop and the son makes hand-woven goods. Did you see those baskets? Of course I had to buy one for myself but I've been noticing them all around Naples. He's a self-taught artist who is carrying on the old tradition of basket weaving. All while working right on the street like in old times.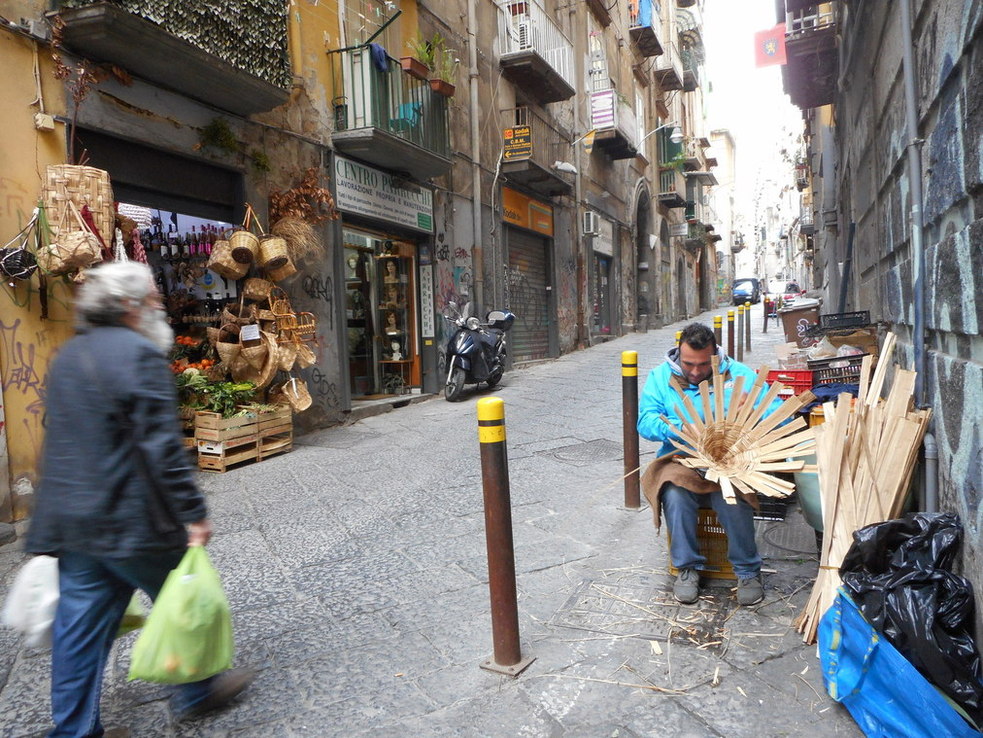 Fiorella: In Naples you can discover things like this and realize how people invent their job every day.
After a fabulous walk in the many wombs of bella Napoli it is time to go home to cook our linguine. Pasta alla Puttanesca, in Neapolitan aulive e chiappariell (olive and capers) is one of the easiest-but no less fabulous-pasta to prepare. We would like to share our recipe with you.
There are a number of stories about the origins of this zesty sauce, the raciest being that a puttana, or Lady of the Night, could cook it in the time it took her to take care of a client, and then enjoy it afterward while recovering from her exertions. Whatever the story, it is good and a classic here in Naples.
Do you want to know how we make it?
Serves four: once you cook it, invite a couple of friends as we always do!
INGREDIENTS:
2/3 cup pitted black olives,
sliced 4 boned anchovy fillets
2 cloves of garlic
3 tablespoons extra vergin olive oil
1 tablespoon rinsed salted capers
Three or four ripe plum tomatoes, finely sliced
Salt and pepper to taste
A pound pack of linguine (or spaghetti) preferably from Gragnano
PREPARATION:
Chop the garlic and sauté it in the oil with the anchovies, stirring the mixture about to break up the anchovies.
When the garlic is lightly browned, add the olives, capers, and tomatoes. Check seasoning to taste.
Simmer the sauce for fifteen minutes, stirring occasionally. Meanwhile, cook the pasta. Make sure you salt the water first! Stir the sauce into the pasta after it has been drained and serve with a nice glass of wine.
White? Go for a Fiano di Avellino, a Falanghina dei Campi Flegrei or a Coda di Volpe
Red? Aglianico del Taburno, Falerno del Massico or Piedirosso
The end of a fabulous walking tour of our ever-beloved Naples.