We hadn't been to our place of soul, Procida, since the beginning of September.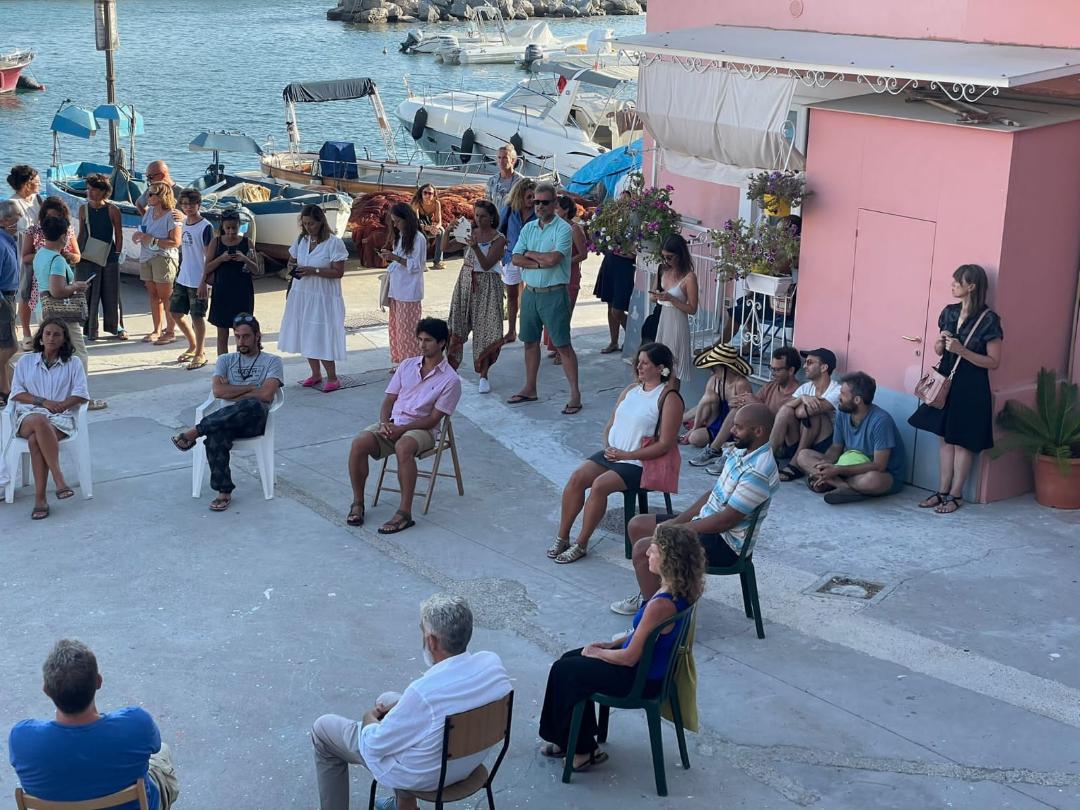 September 2021   PANORAMA  One and Twenty-Four Chairs Performance by Adrian Paci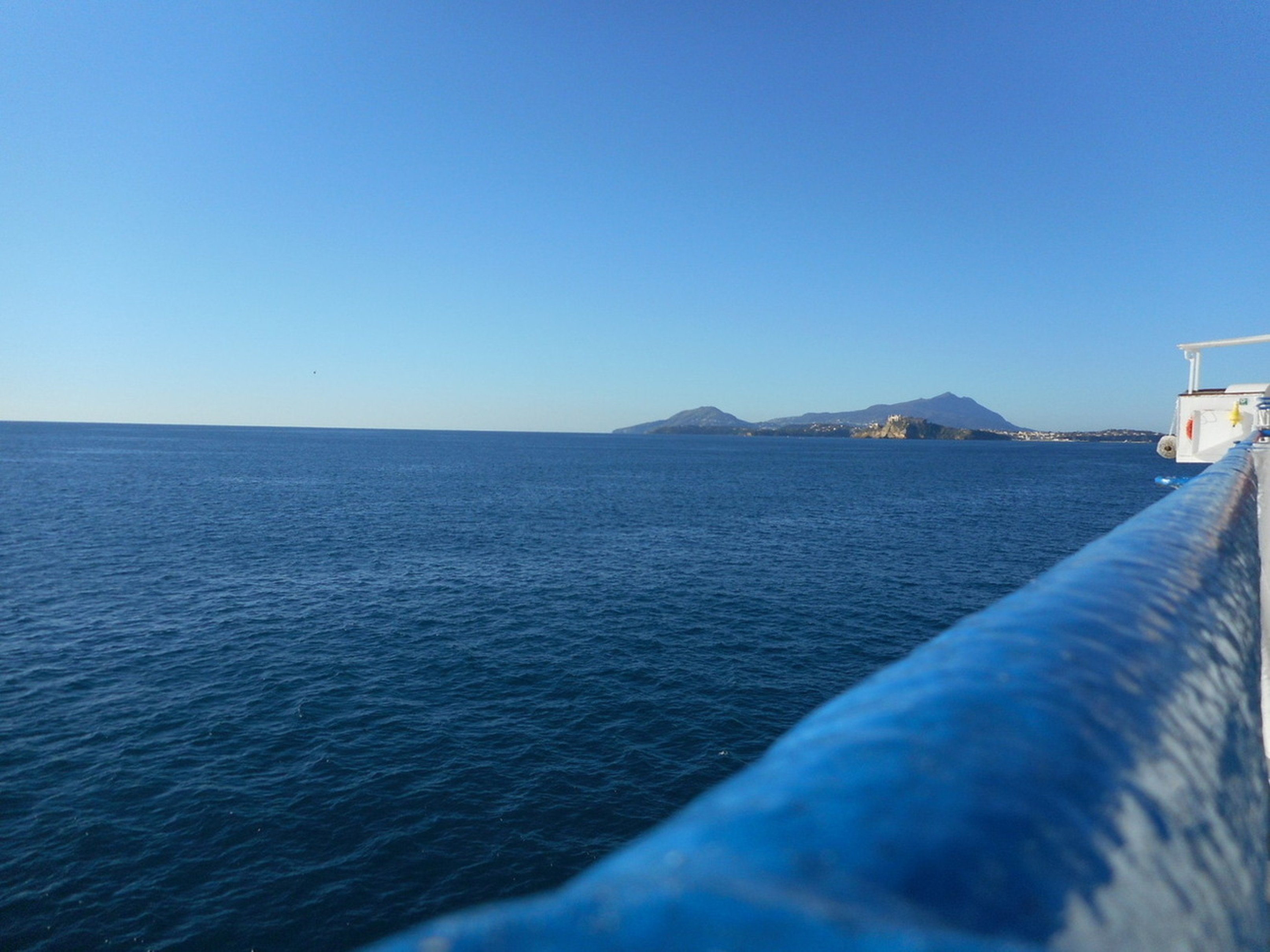 We'd always attempted to keep it a "secret", to protect it from mass tourism which unfortunately seems to inevitably arriving.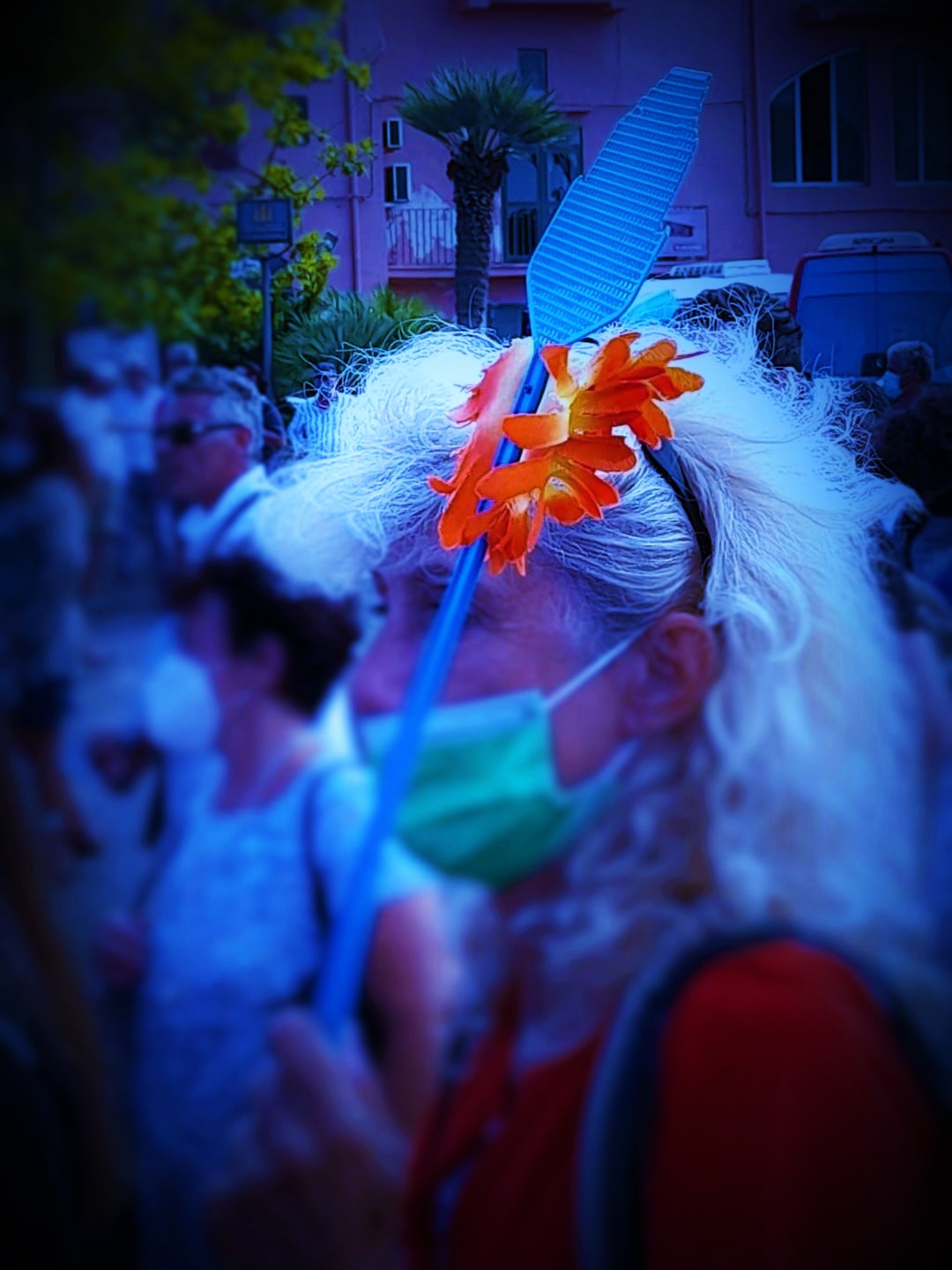 Alice: I bet you missed our "volcanic rock" a lot during the period of restrictions, especially since you've been going there since you were a child.
Fiorella: Absolutely. But I know you missed it as well. Right after you got here twenty years ago you told me that Procida was your favourite getaway in the summer but also in the beautiful days in the fall and winter. Since we've known each other, we have walked on every corner of our beloved island. There isn't an alleyway, a rock, a beach that we haven't covered…or a delicious dish or cool drink that has escaped us!
Recently we have watched our island change. She, the smallest and least known of the three islands of the Gulf of Naples, is visited more and more by those from all around the world. In addition, the creation of a very efficient sailing port has become attractive to many boat-renters and sailors has also helped her popularity.
In addition, during the Covid Era, Procida was nominated Capital of Culture in Italy for 2022. Very few procidani are happy about this. Why? Because Procida's economy has always been based on sea commerce and fishing. The Nautical Institute of Procida has trained many captains of the Italian navy, and the procidani liked to enjoy the quietness of their island in summer, when they were coming back home after having spent months at sea.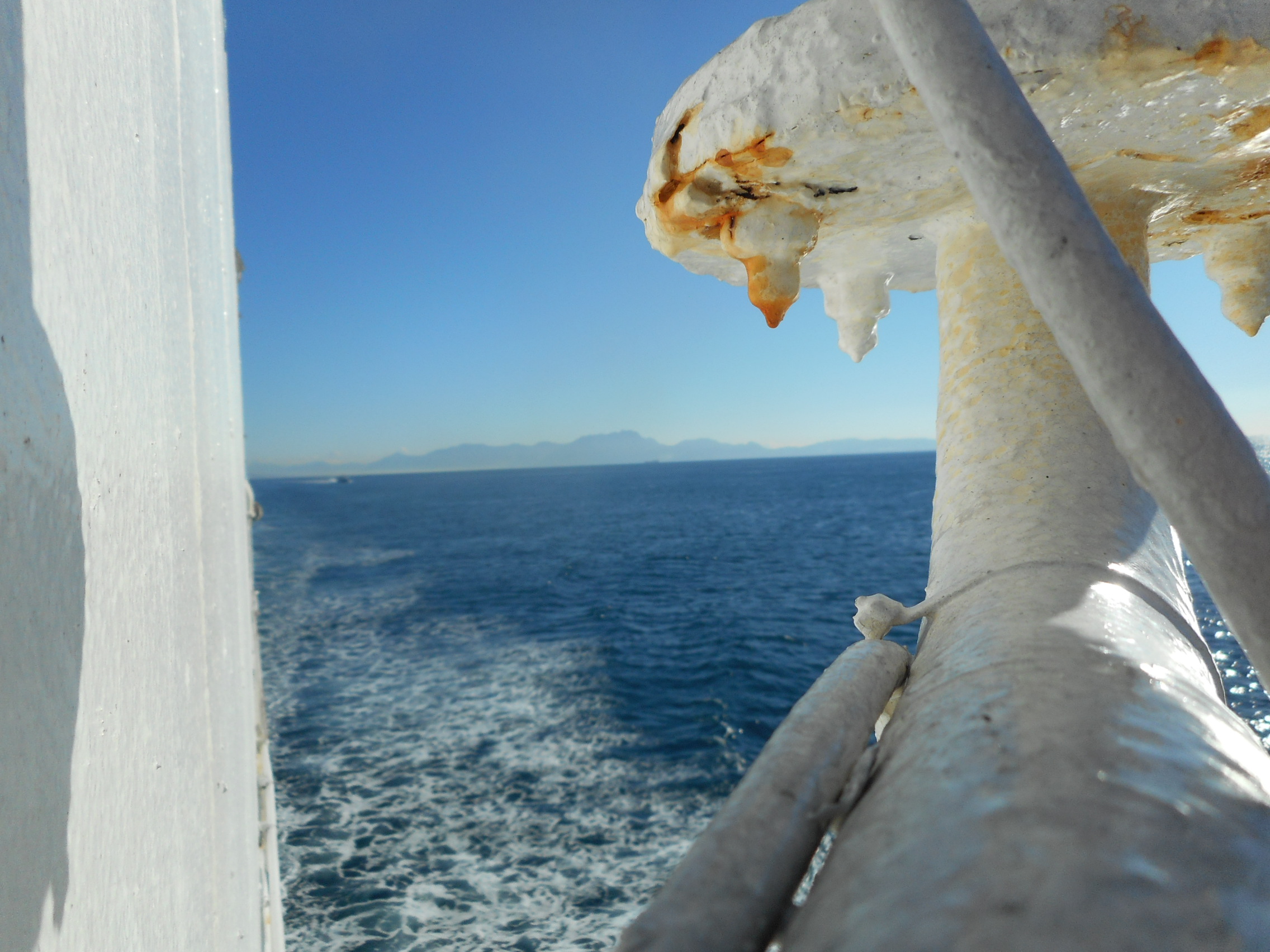 On a crisp, sunny December day we decide to give ourselves a long, well-deserved day in Procida. As we leave the port, we take in the gulf of our Fabulous Naples and we remember parts of Il Mare (The Sea), one of the Leggende Napoletane (Neapolitan legends) written by Matilde Serao, an extraordinary woman who founded two newspapers and wrote many novels and stories. ( * you can find her brief biography at the end of the post).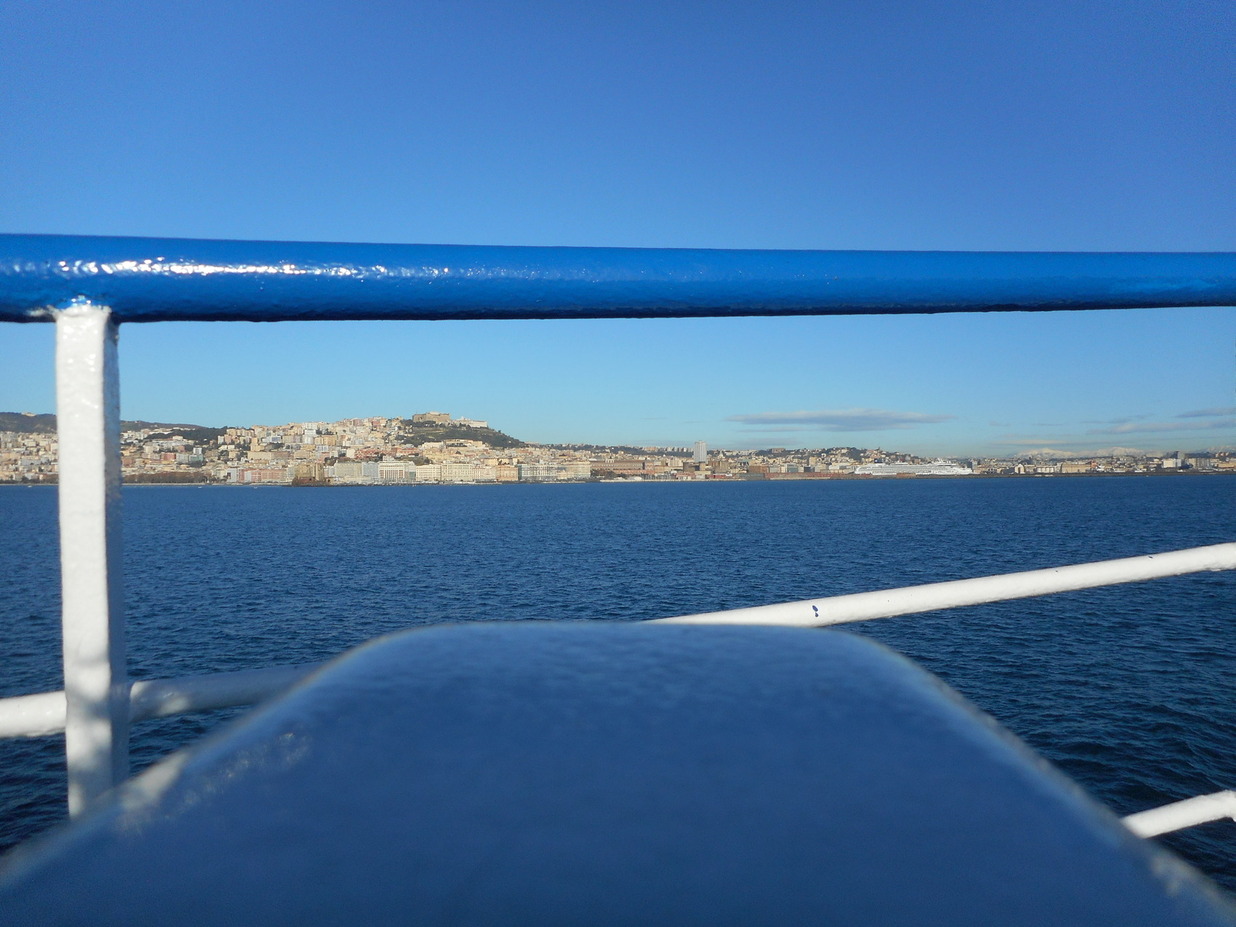 These passages from the Legend of the Sea well describe a summer day in the waterfront of Naples, the same fabulous bay that we are admiring and loving while our ferry departs for Procida.
The sea of ​​Santa Lucia belongs to the Neapolitan people, it is for them. It is a deep blue sea, calm and safe. A large and bustling colony of villagers live on that shore. The women sell the spassatiempo (nuts), the sulphurous water, the octopuses cooked in sea water; men make fish traps and nets, go fishing, smoke pipes, drive boats, sell seafood, sing and sleep. It is a bright and lively landscape…The blazing sun breaks the stones. The children fall into the water, rise to the surface, shaking their curly hair and shouting with joy. Street musicians improvise concerts…
The laundry dries in the sun, fluttering in the westerly wind…Songs, cries of children, curses of porters, rolling of trams, fragrances and bad odours, rise in the serene air; they shun angry and penetrating colours; the dawns set the reflections on the sea ablaze; the sanguine sunsets ignite sea reflections which that seem to be made of blood. It is the sea of ​​the people, a laborious, faithful and fruitful sea, a loving and beloved sea, for which the Neapolitan people live and with which they live.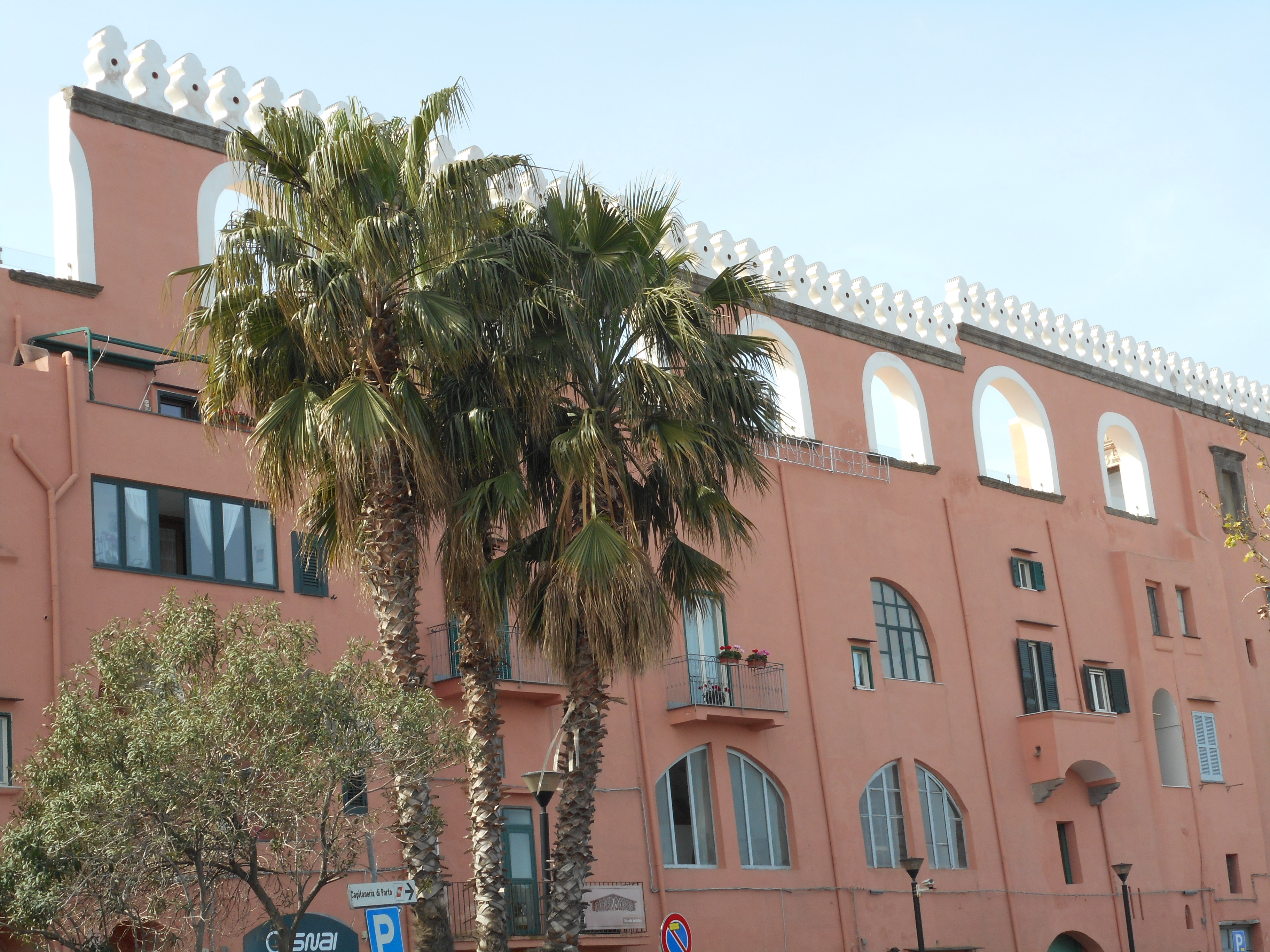 As soon as we got to Procida, without even talking about it, our internal navigators lead us directly to Dal Cavaliere, our fixed stop for a coffee and a warm lingua di bue lemon cream pastry. What a fabulous start!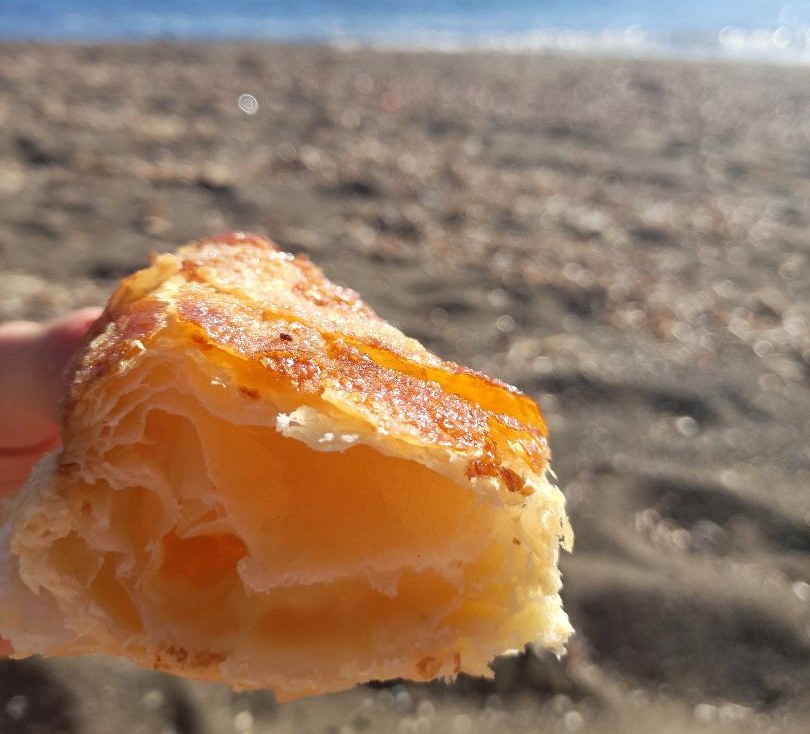 A short up-hill walk a flight of down-hill steps and we are at the Corricella, the old fisherman port which is also the sunniest and warmest spot in winter.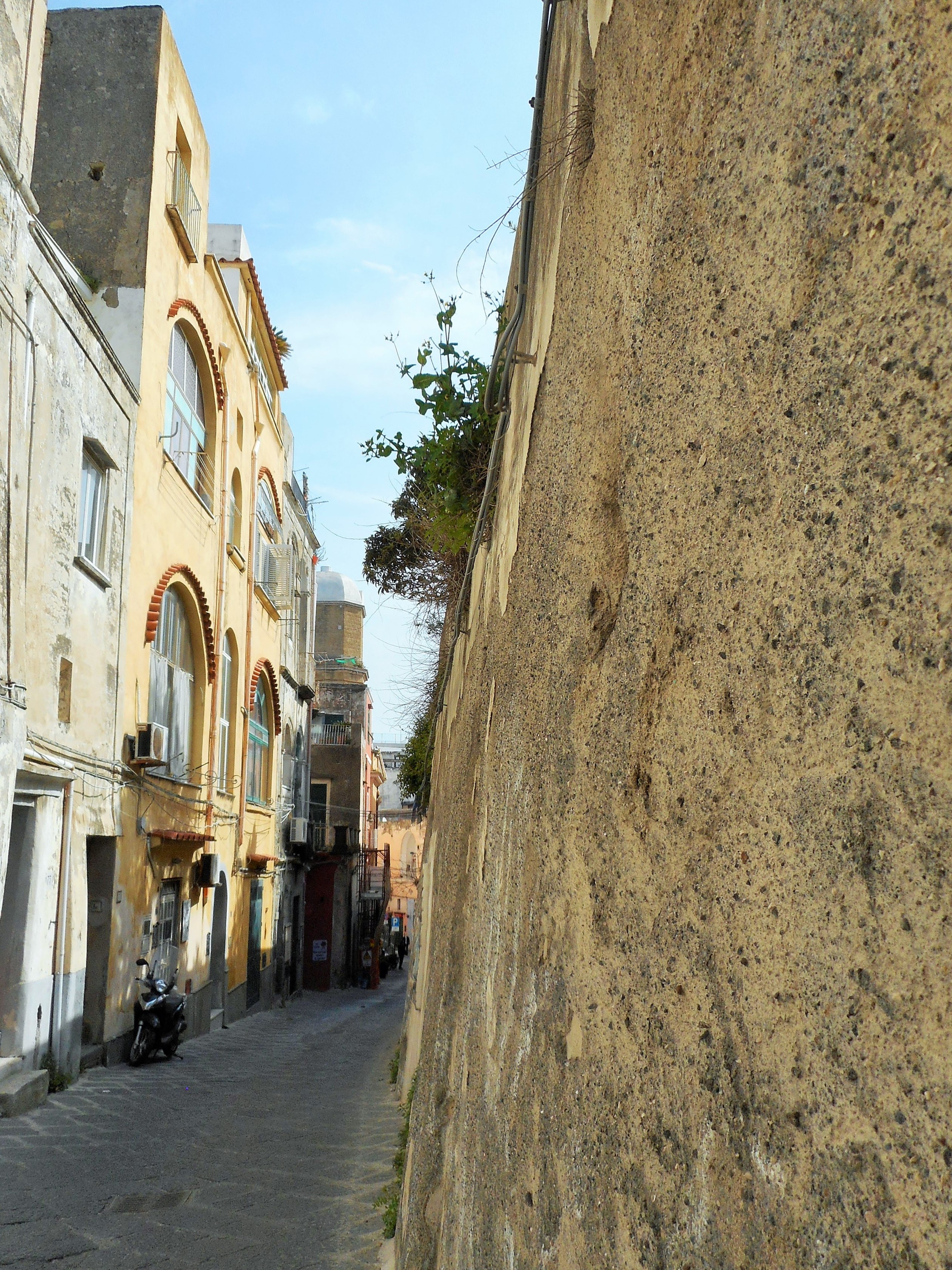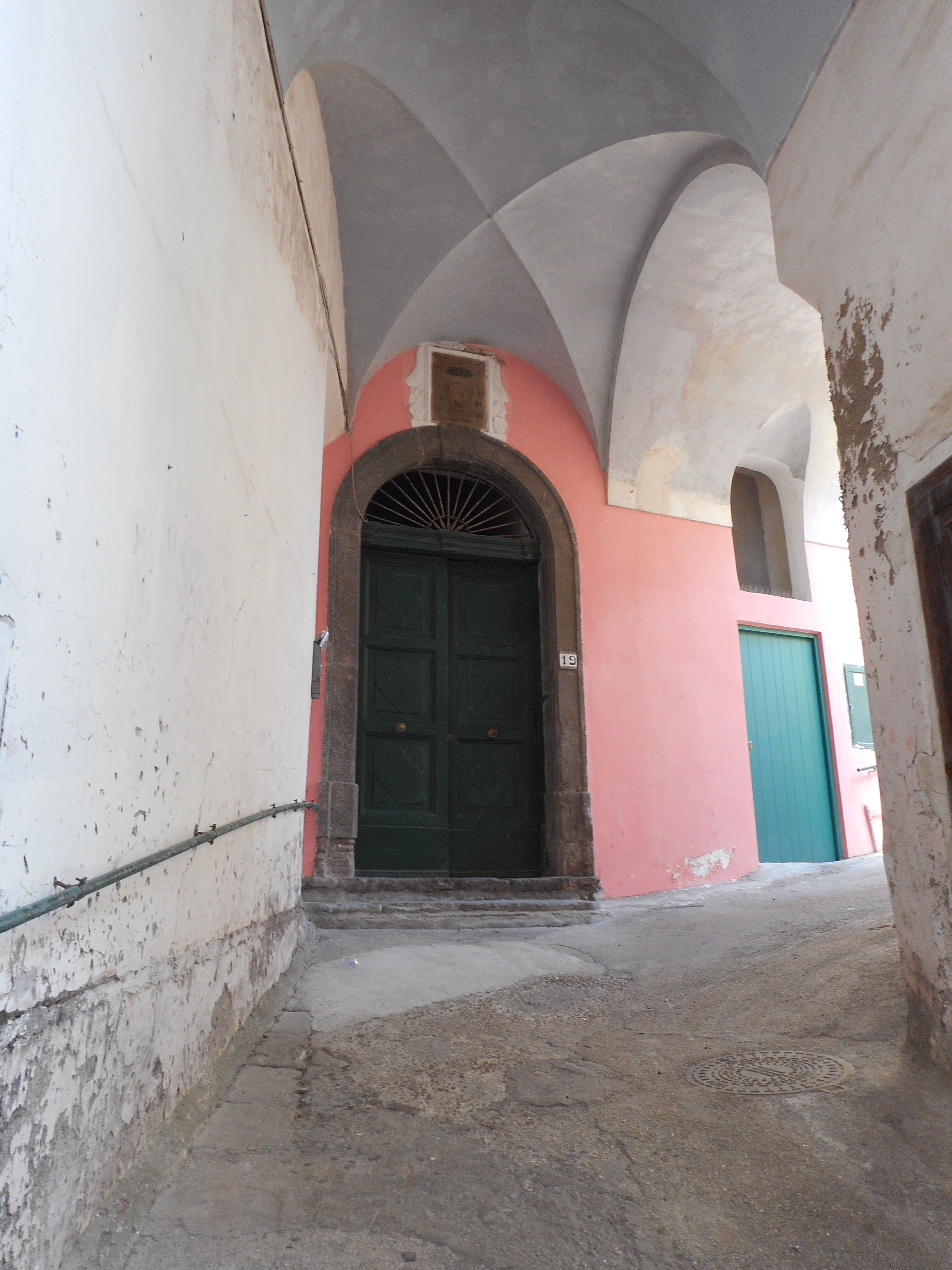 Luckily, other than fishermen, we are almost the only people at the port and Maria alla Corricella-better known as Maria the Fisherwoman– is open.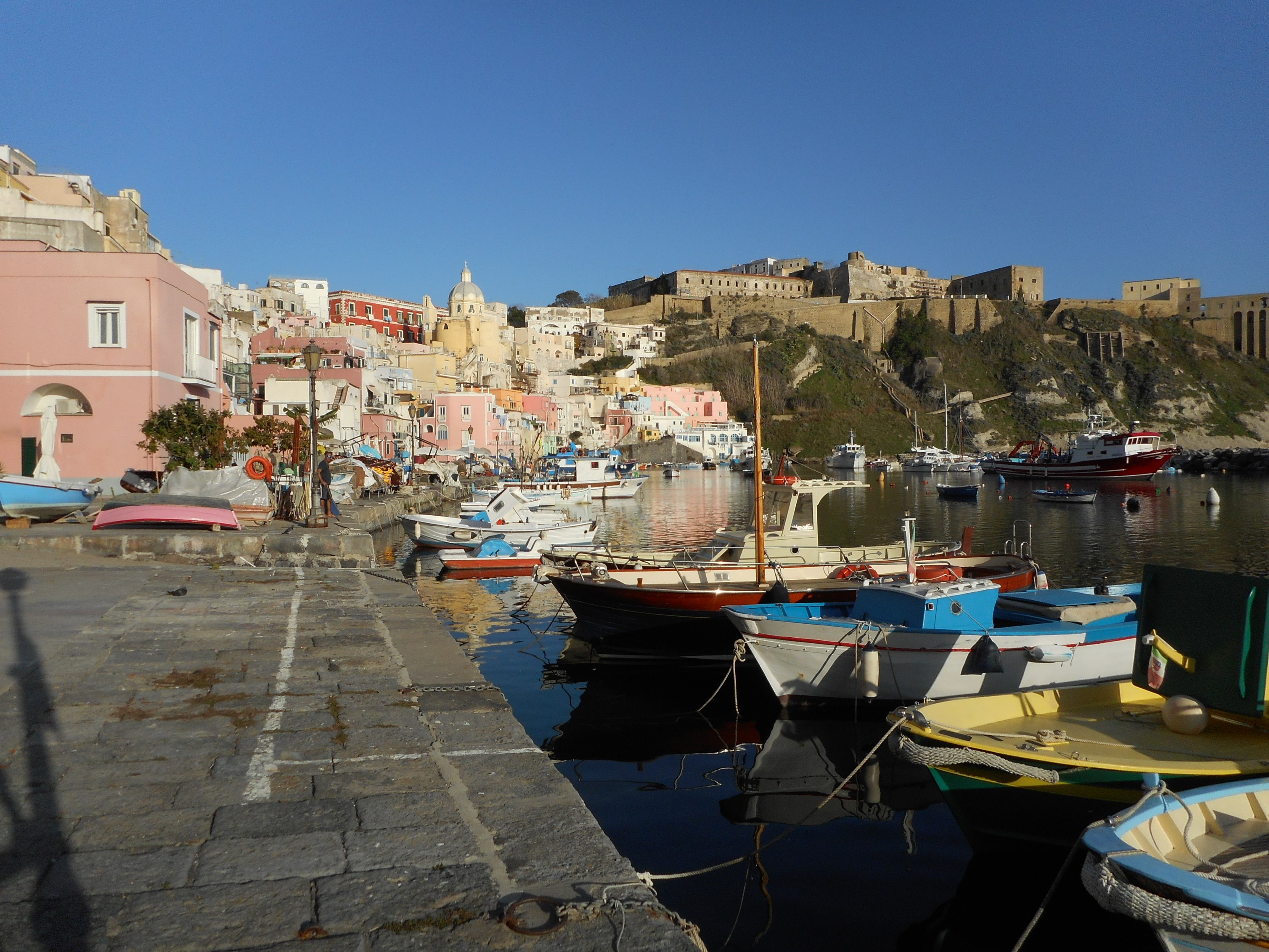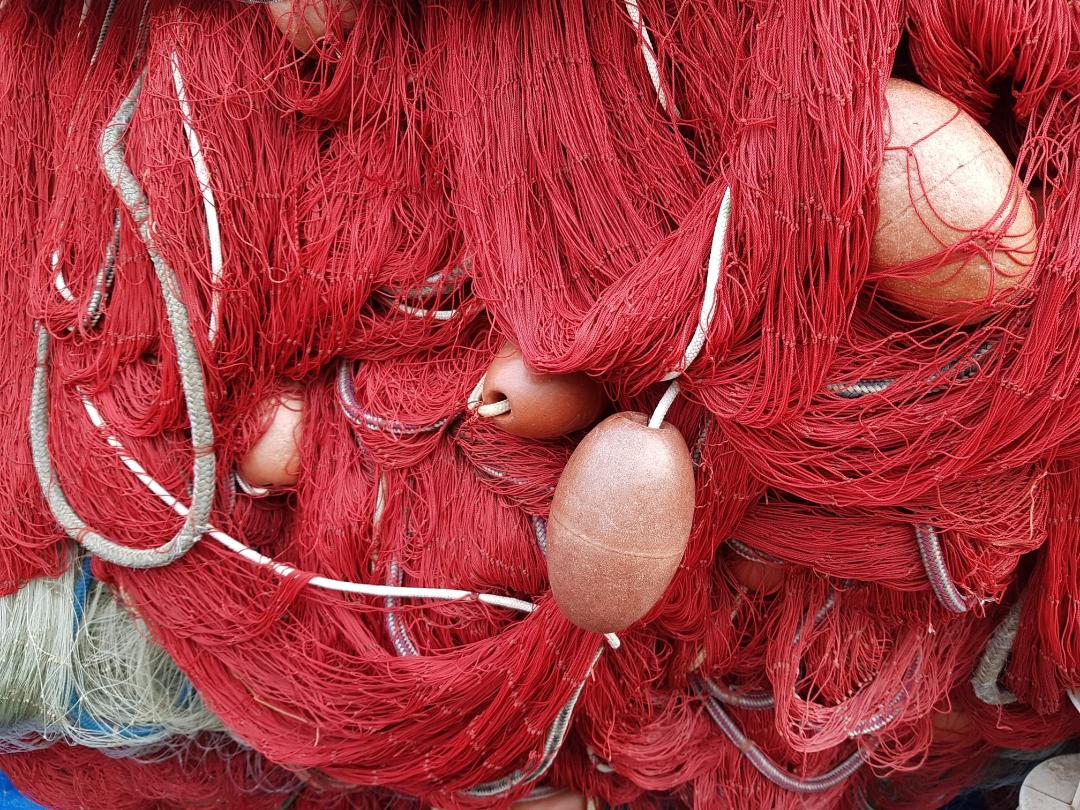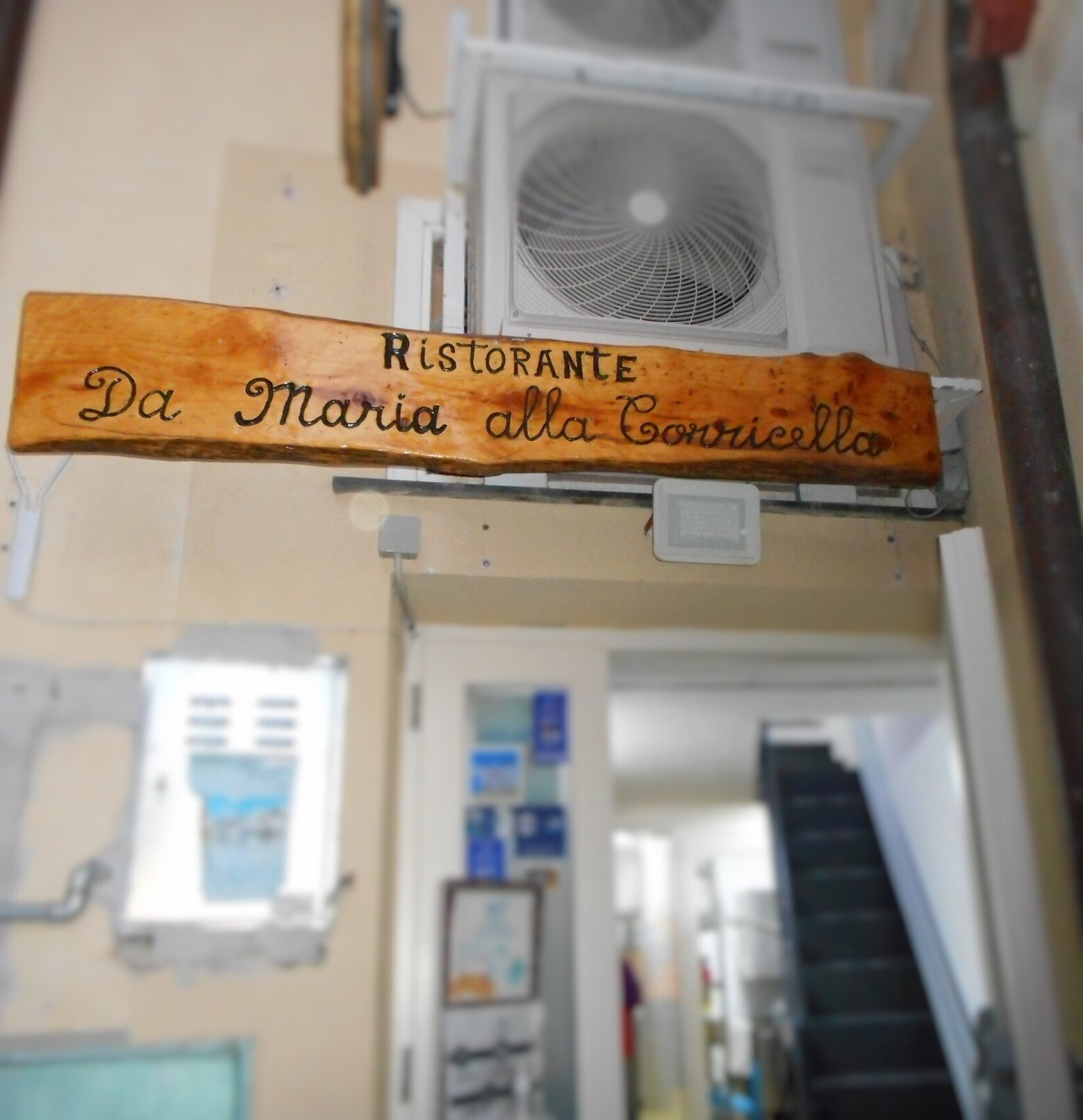 Here we sit for four fabulous hours, during which we eat some of Maria's specialties and we drink one wonderful bottle of white wine…or was it two?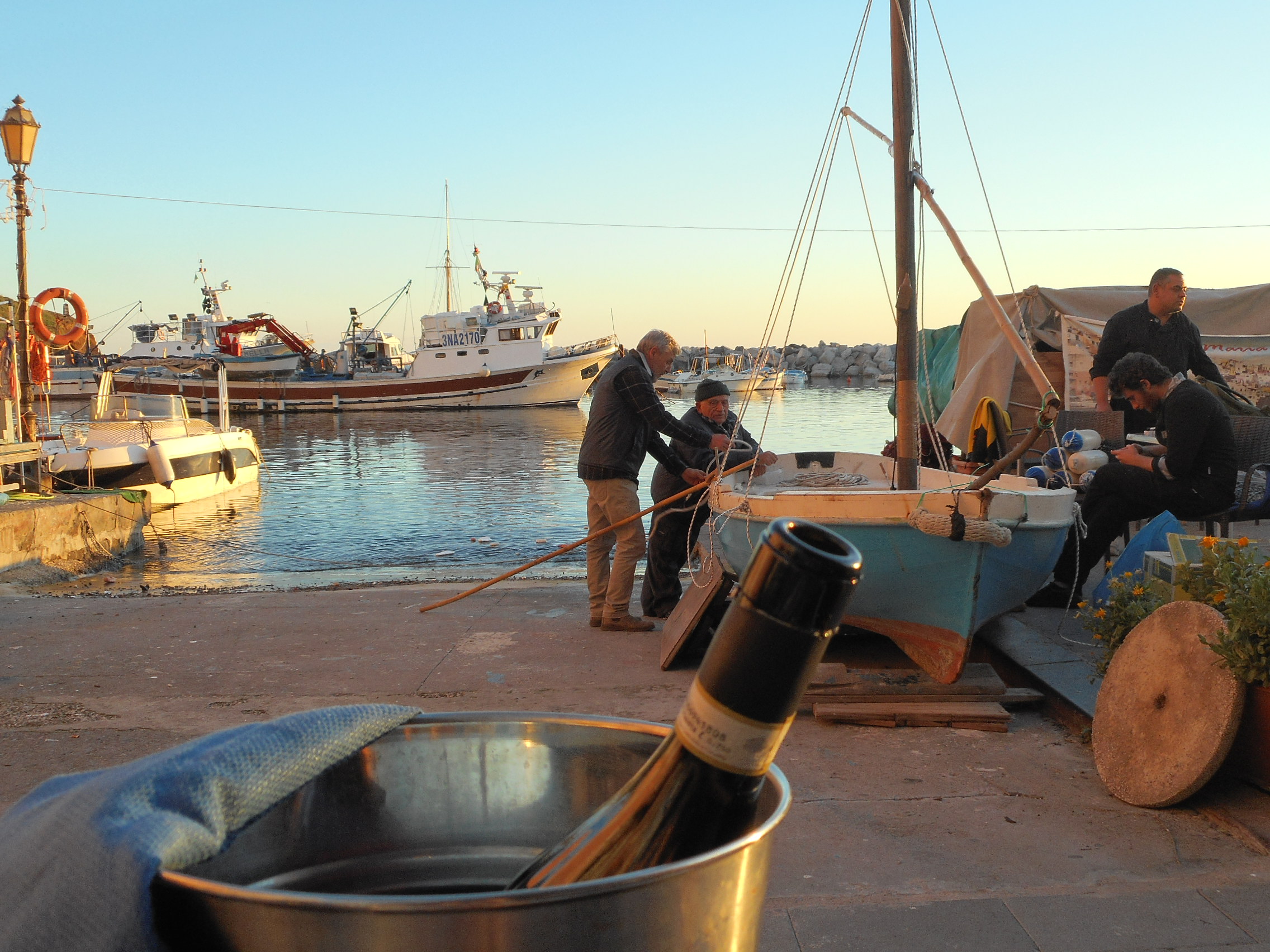 As the bright sun is beginning to recede and we were finishing the last of our food, we start chatting with Maria's cousin, Francesco and the charming waitress.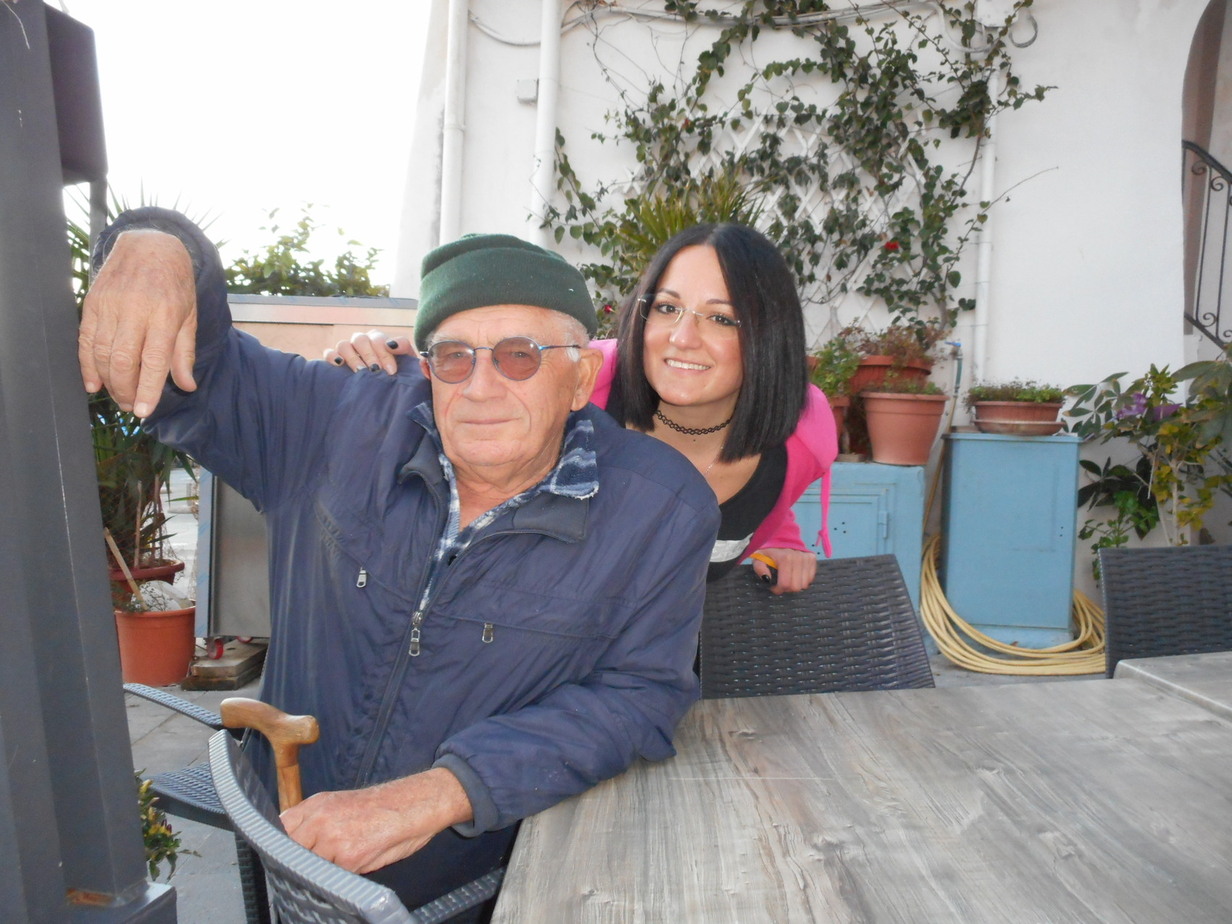 When all the other customers are gone Maria sits with us and we start talking about how much we all love Procida.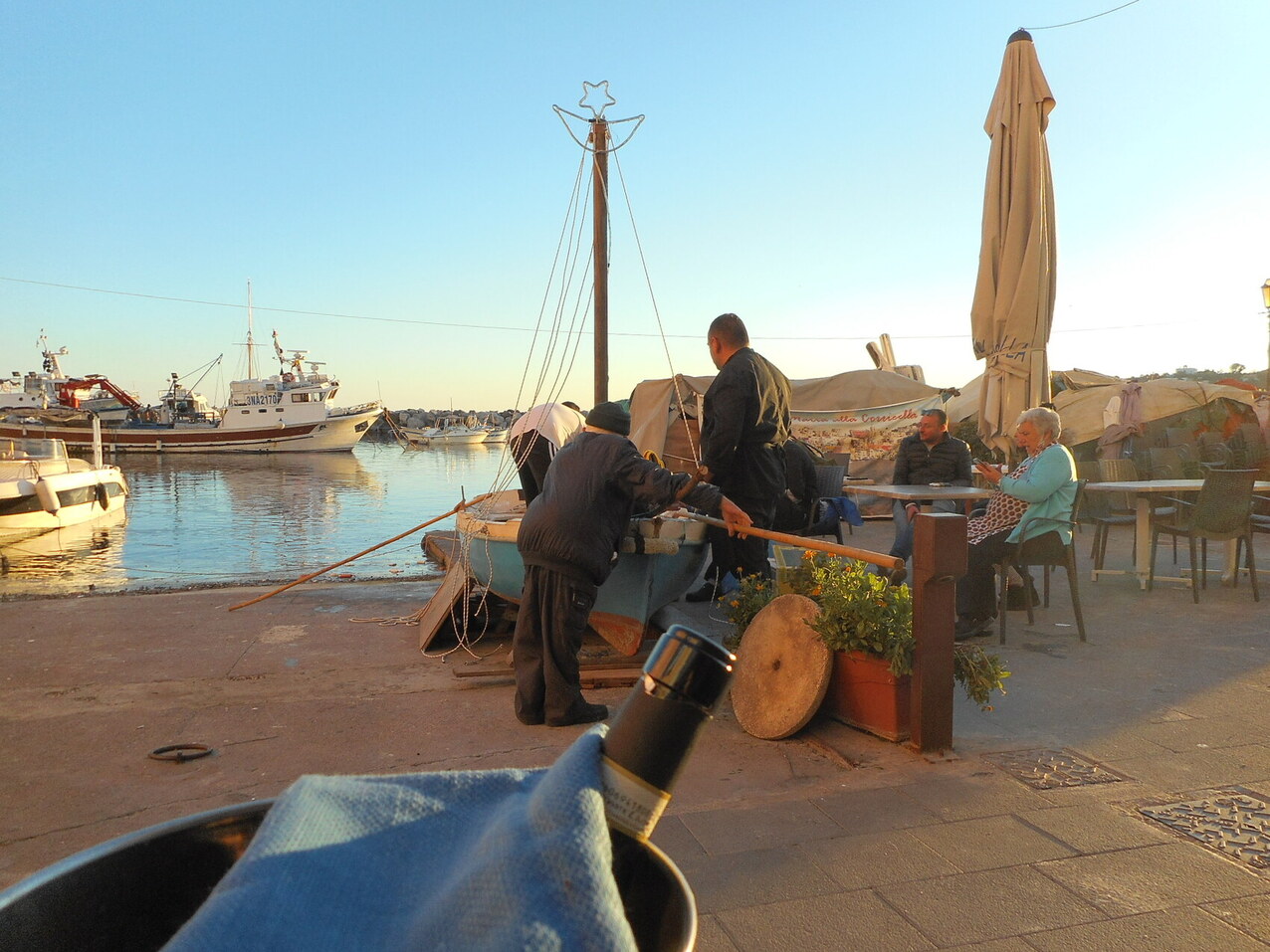 Francesco tells us about his cousin Maria who has always worked extensively as a mother, homemaker, fisherwoman and cook. He helps us to understand that there is more sea water than blood running through her veins! It is clear that Maria has always loved fishing. She smiles and with dreamy eyes she tells us that the most beautiful moment for her is at dawn when she goes to pull up the nets while her family still sleeps. Returning to land, she admires the pastel colours of her cherished Corricella.
In the past, every fisherman painted their home with a strong colour so that they could recognise it from the sea. Maria tells us that as a child the "Upper Procidani" didn't love to come to this little marina because the smell of fish disgusted them. Seeing our sad expressions, she reassures us by telling us that neither she nor her neighbours ever suffered from that discrimination. On the contrary, coming home to play amongst the fishing nets, hungry cats and their father's and brother's coloured boats in a place where even today those stairs shield from cars and noise, made them feel privileged and free. Walking up from Corricella, she says, was stressful on their ears.
"The sea raised my children. When I went to throw the nets in the water, I would nestle my child in their baby seat among the fish crates while they would laugh, eventually falling asleep to the swaying of the boats. I would relax, far away from everything. Fishing was never a difficult job for me and before opening the restaurant often I would cook for my family and friends. I'd set up rustic tables and prepared all that the sea had given me. Then I had the idea to open a restaurant. Yet still today my true passion is going out to sea in my boat."
Embraced by her young grandchild, she tells us that she never goes to Naples and that she never goes to Procida. As if to her the Corricella isn't Procida!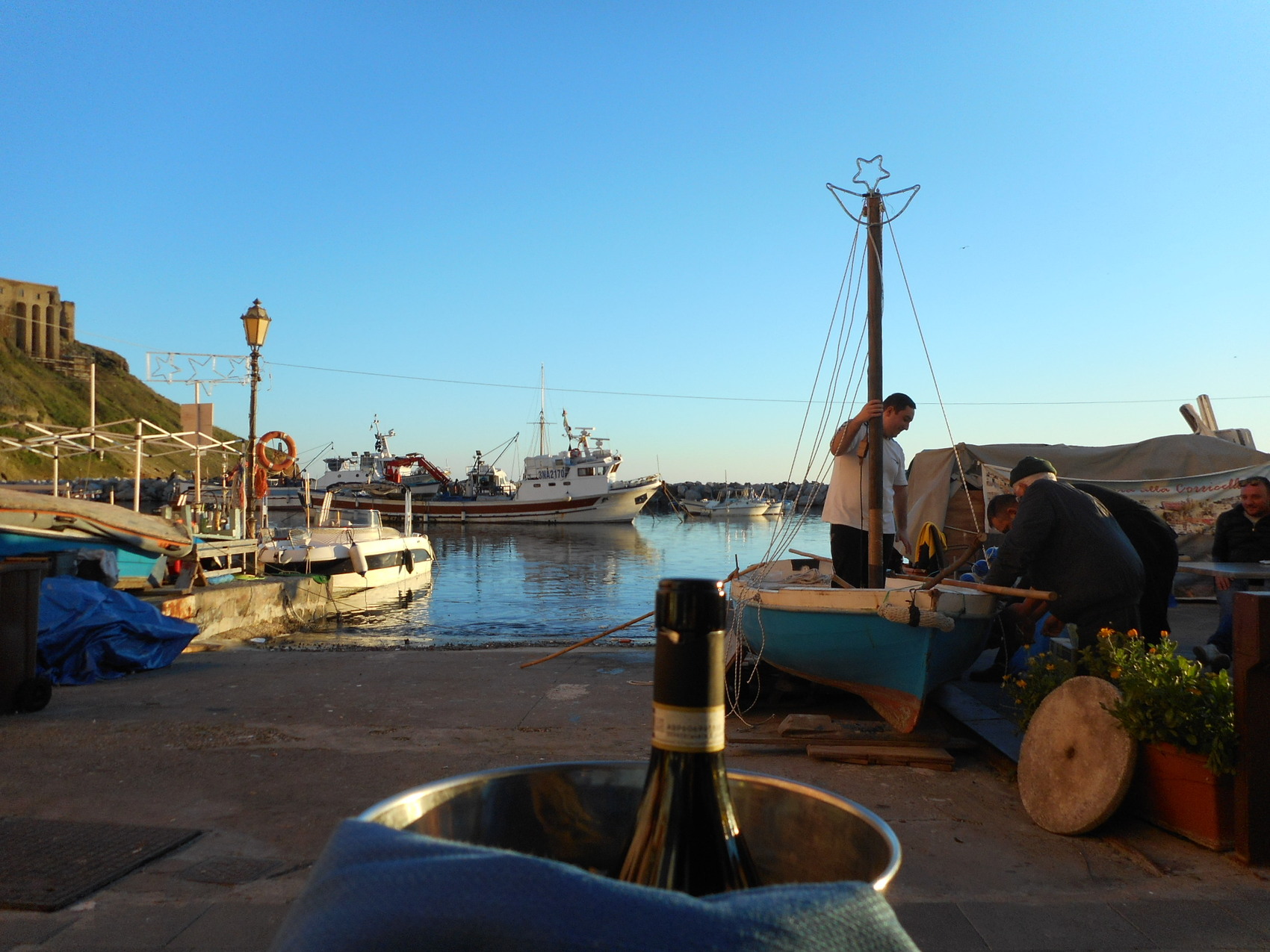 By this time it is 4 pm and the sun has gone. The cold has started creeping in and we start putting layers on. Maria, wearing a thin shirt and an apron, unfazed by the temperature, tells us goodbye. Francesco makes an appointment with us for the next sunny day as we look nostalgically at Terra Murata, the place where pre-Covid we used to spend nights dancing and listening to music at the silent parties organised by Unico Bio Bar far until the early morning.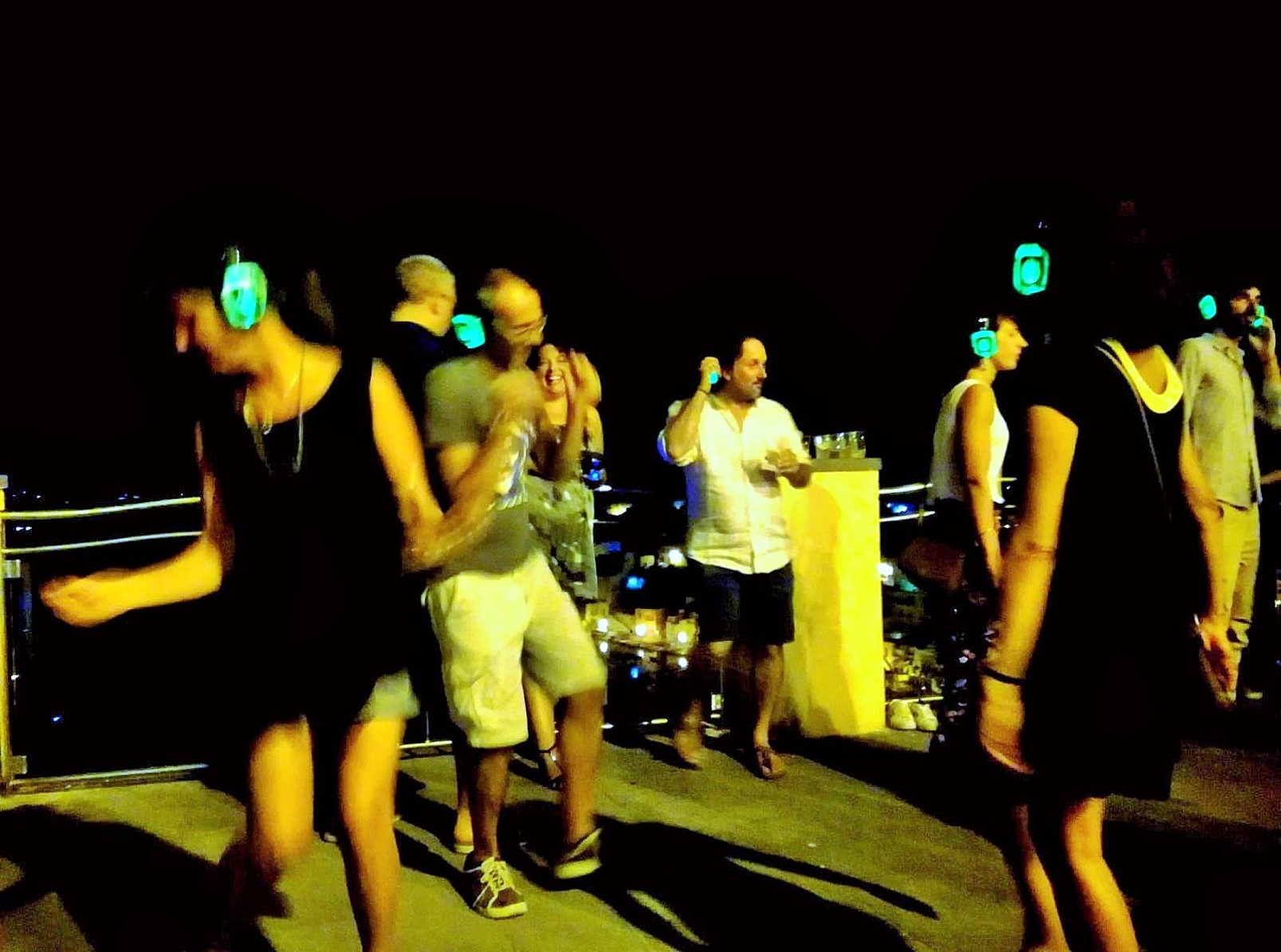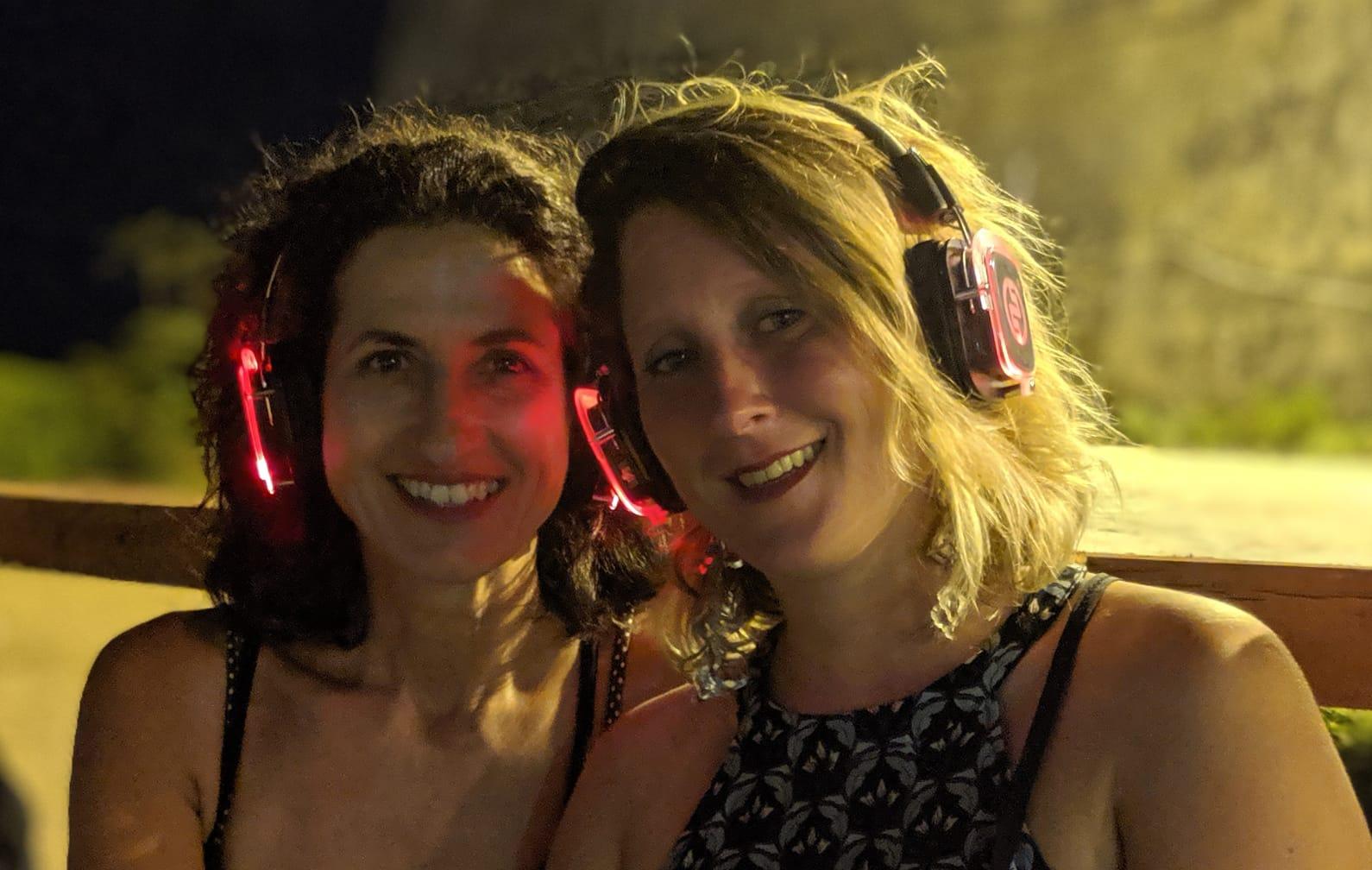 The only thing left for us to do is go to the port to get the ferry back to Naples, yet there are two stops we must make before leaving: one is to walk to the 16th century Casale Vascello, to take in the colours, the vefi (roundshaped windows and balconies typical of Procida) and the intricate steps of this unique example of local architecture.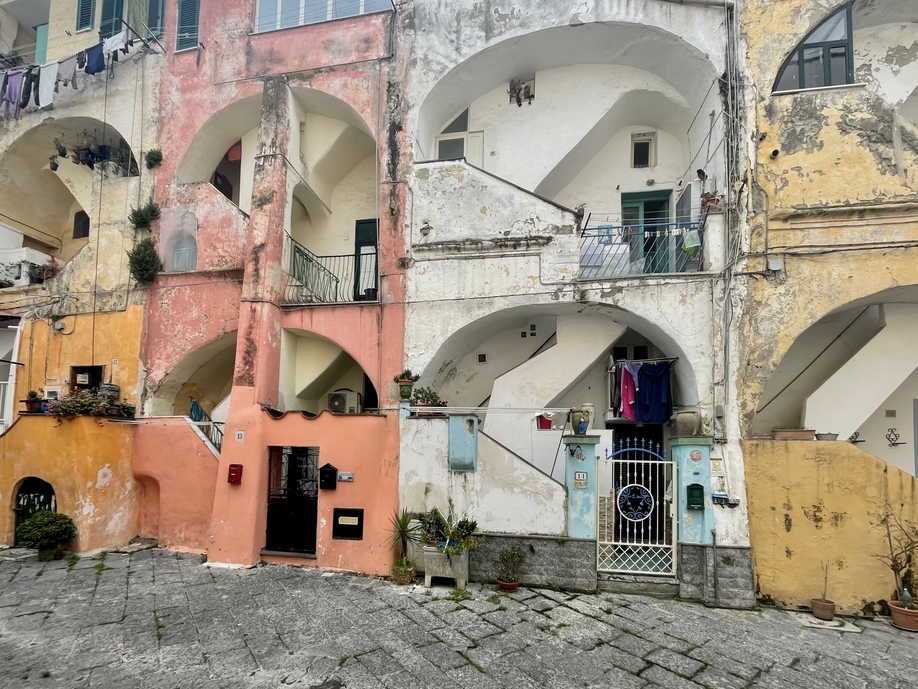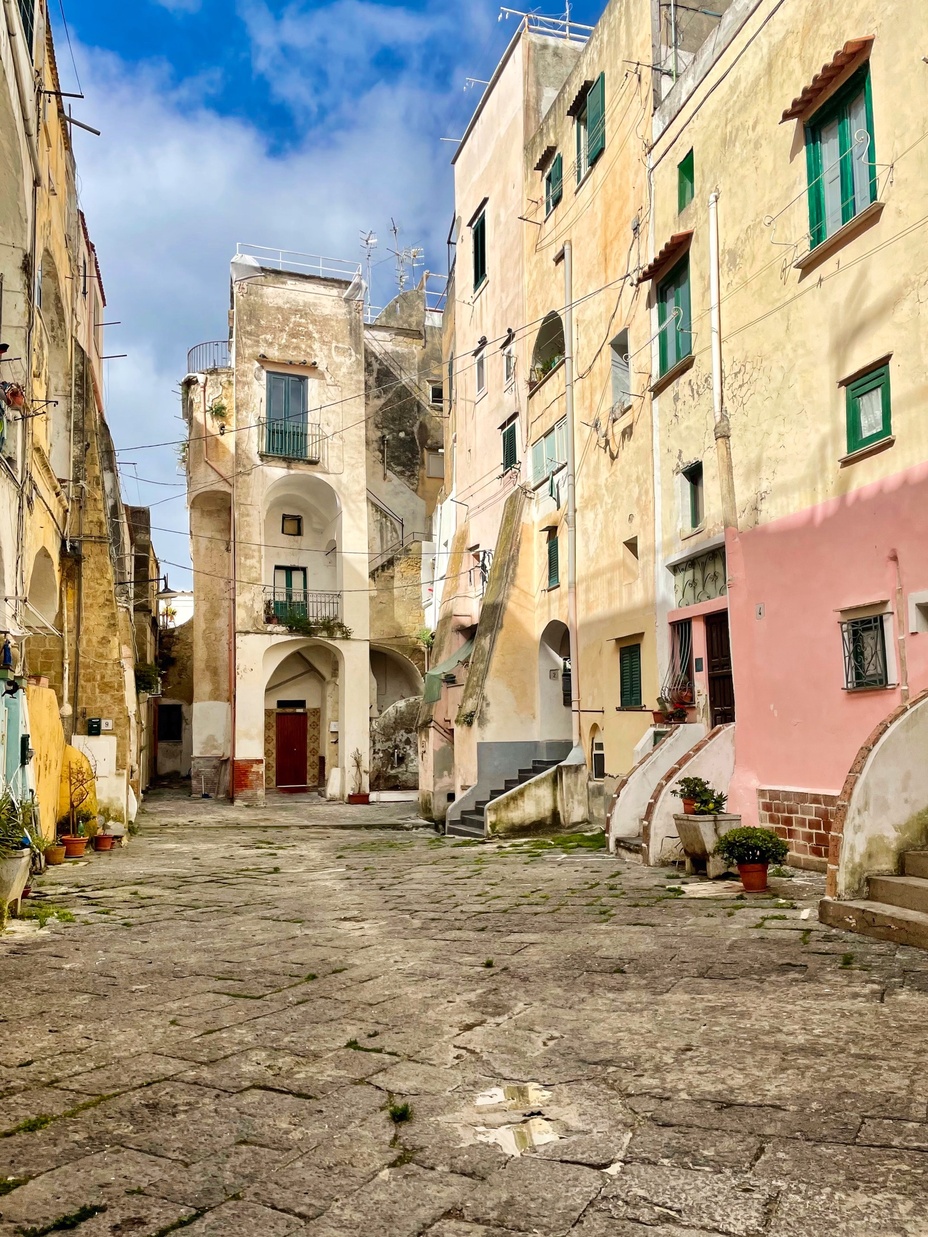 The other stop is to have a coffee accompanied by a long chat at Nadia's home.
She is another hardworking woman who lives at the island's port and from which she leaves only for necessity. In the summer she is a hostess and cook aboard a sailboat and in the winter she embroiders, sews and works with leather. Everything is done by hand, as if sewing machines and electronic devices have never been invented. Since a few months, she has started a new activity: she brings old ship helms back to life, covering them with leather. Making holes, she threads the thick cotton strands through by hand.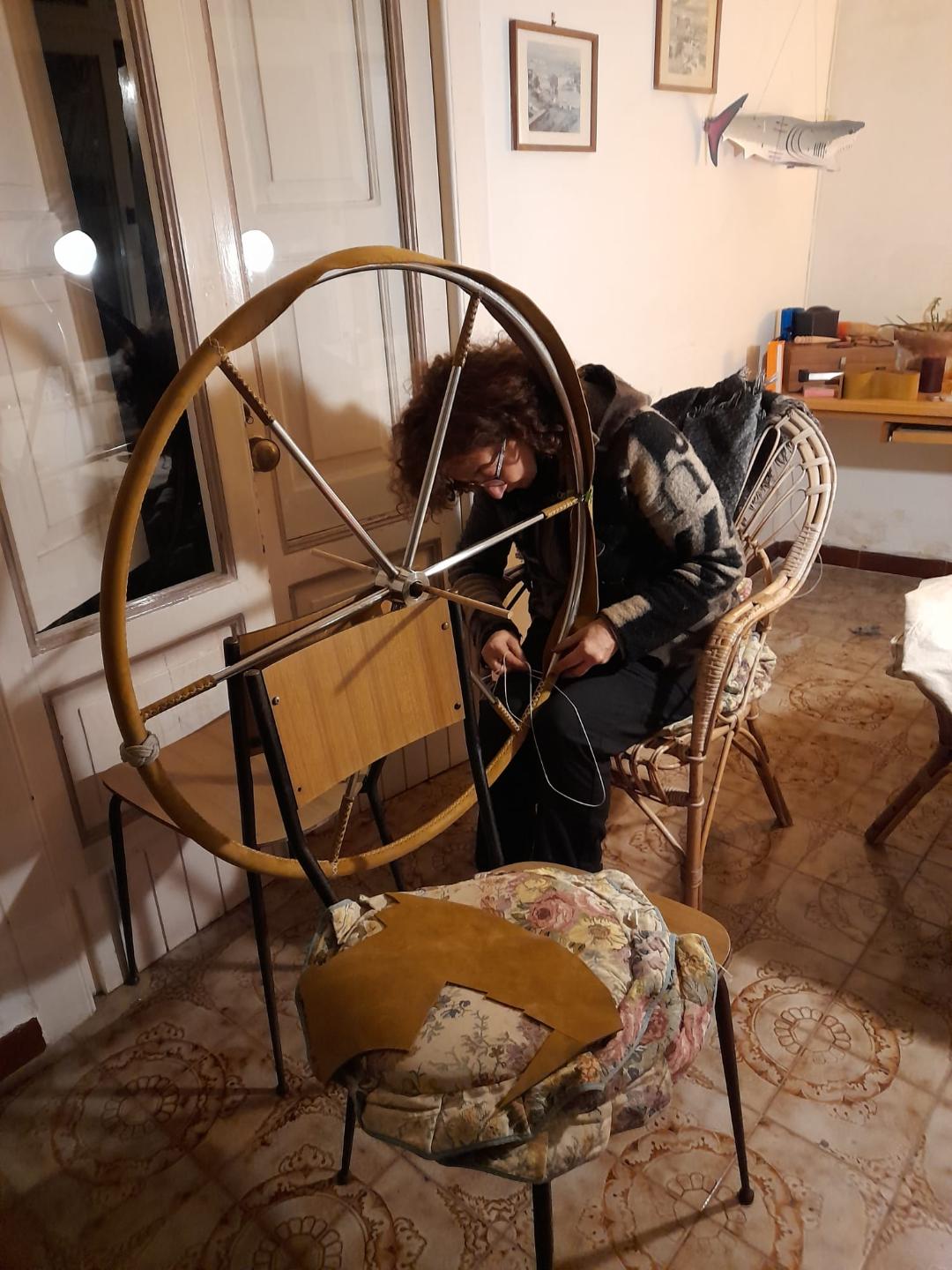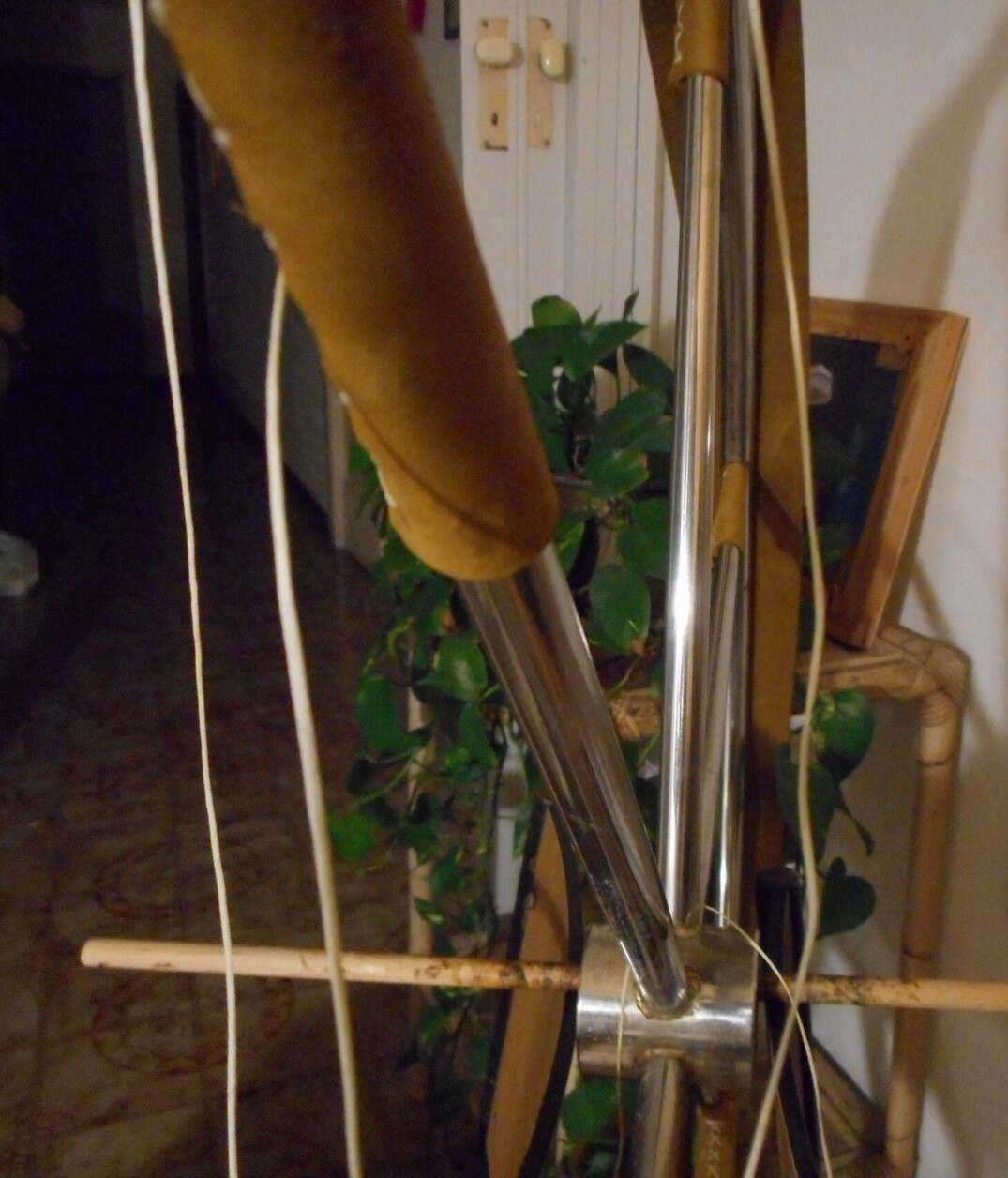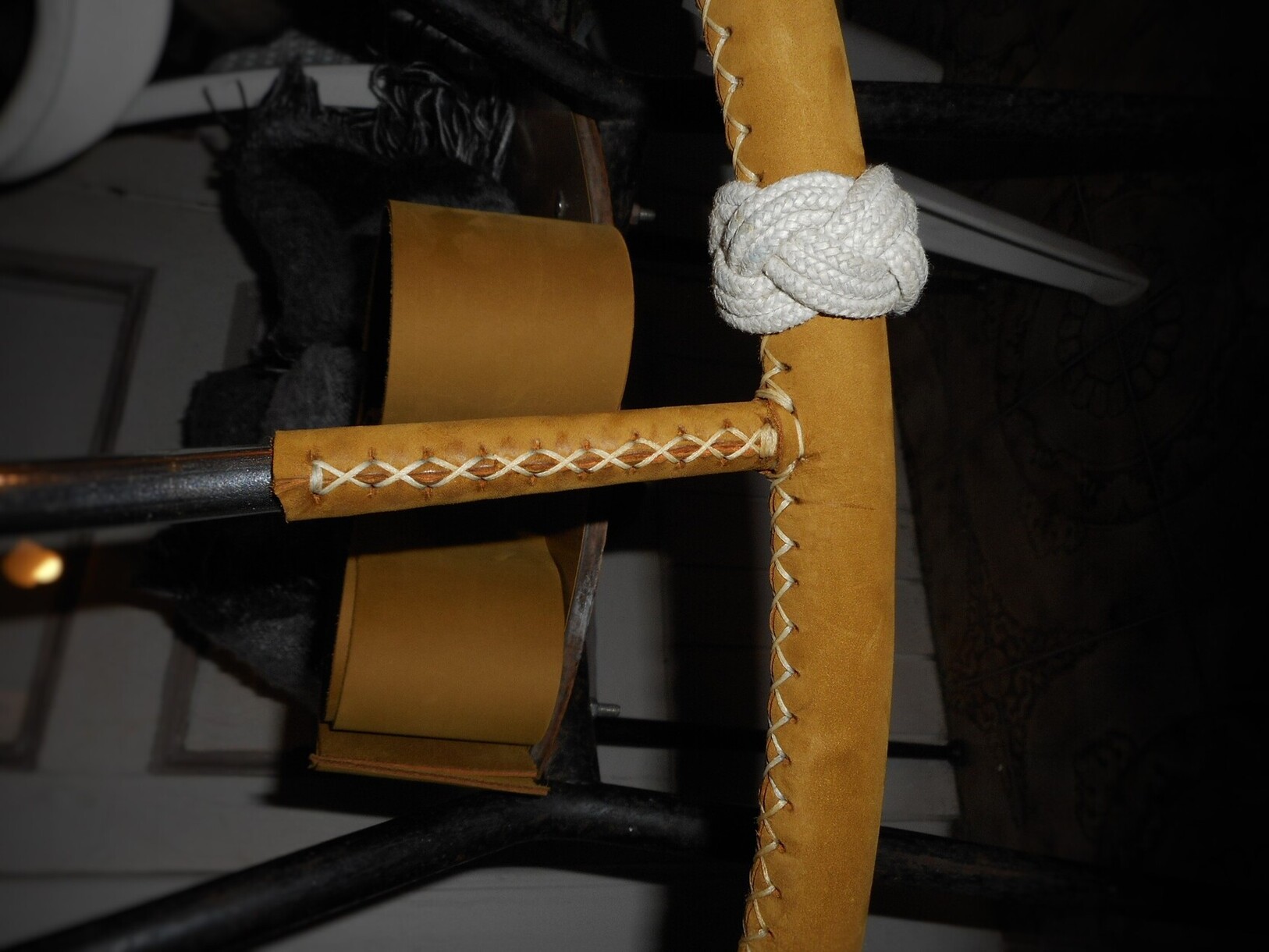 On her glass veranda overlooking Sent' Co' – this is what the Procidans call in dialect Sancho Cattolico – the main port of Procida, Nadia works for hours at her helms between delicious coffees and quick lunches. Born in a country town, then living in Naples' bustling city centre and now since a few years this other industrious woman has decided to live on our dear island, or rather a Sent' Co'. She never leaves the port, neither in winter nor summer, like Maria who can't be pulled away from the marina of Corricella.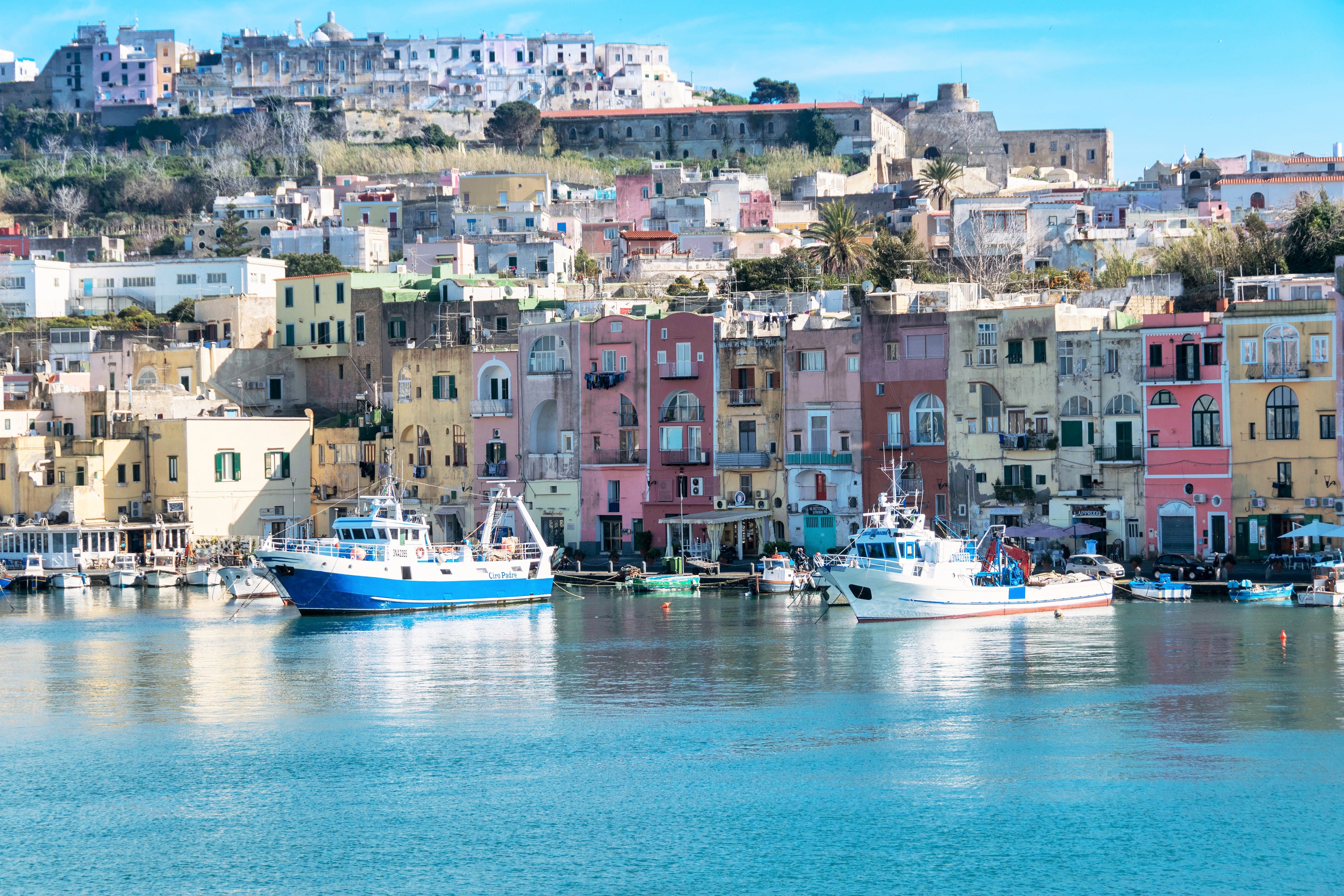 We leave Nadia's, greeting an amazing sky which is the backdrop of many sailboats. Our ferry takes us back to al Mare by Matilde Serao. A fabulous day dedicated to women, full of sun and stories to remember in the darkest moments of this winter; another difficult and complicated year that seems neverending.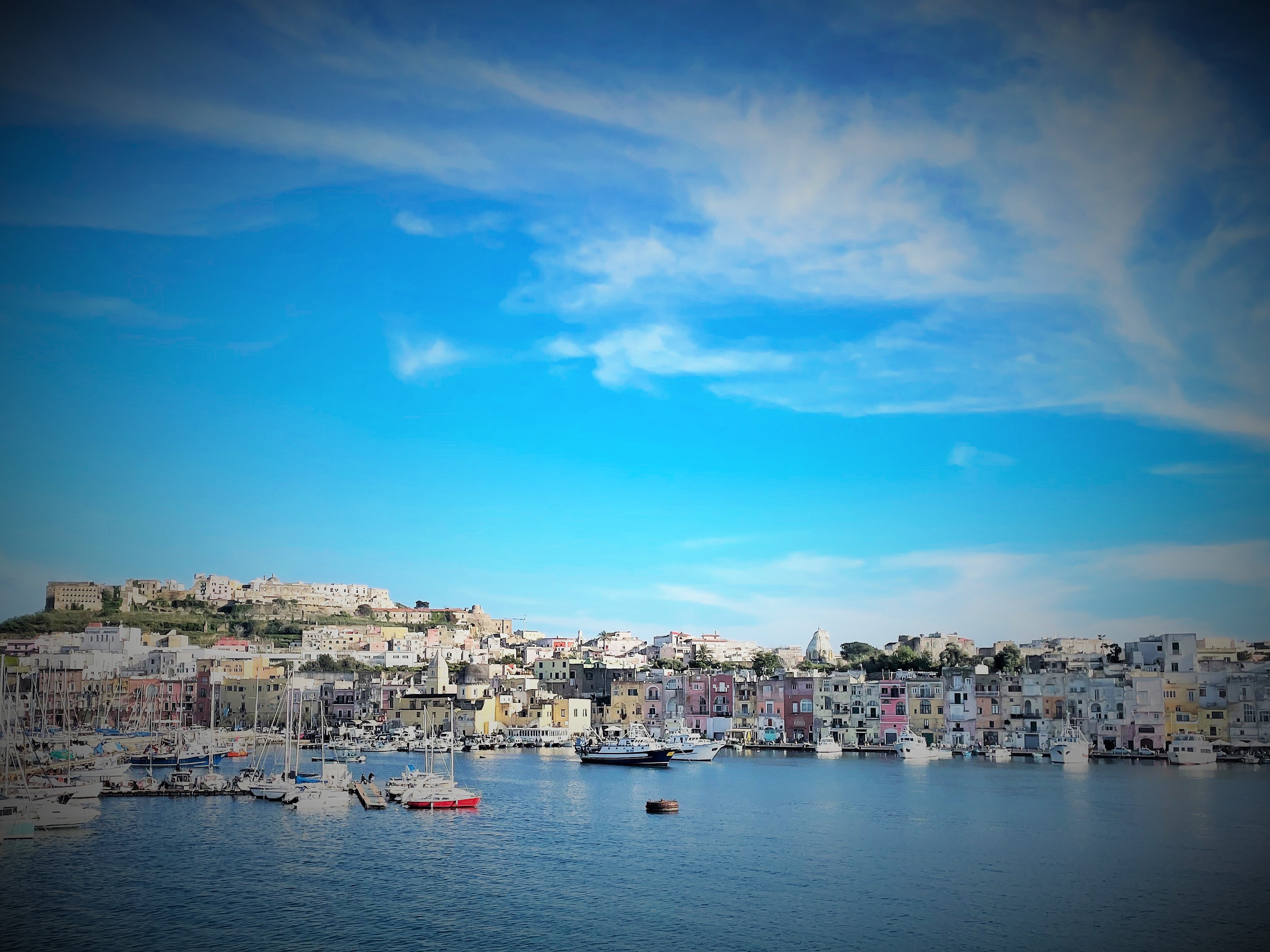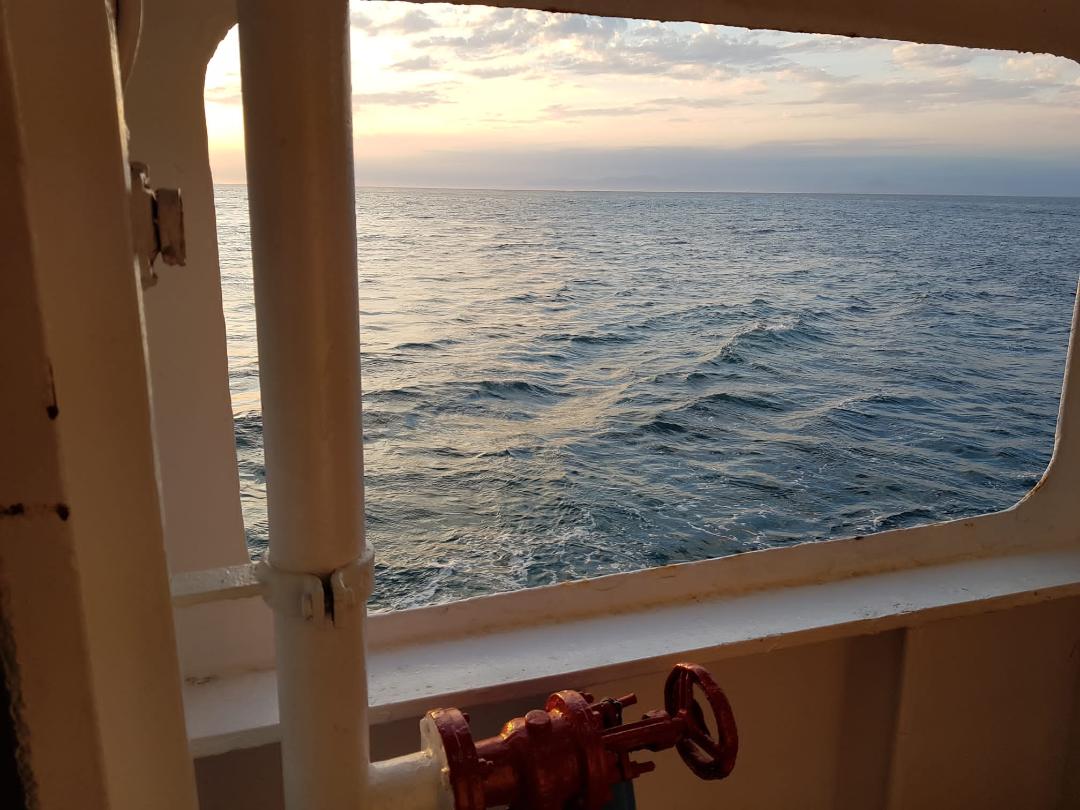 The picture of the Performance by Adrian Paci is by Jasmina Trifoni. The two pictures of Casale Vascello are by Paola Buttà. All the others are by Naples Fabulous
* Matilde Serao is one of the most prolific Neapolitan writer, although not very well-known internationally. Born in Greece of a Neapolitan father, she and her family moved to Italy where she would later found the daily journal Corriere di Roma with her husband, Edoardo Scarfoglio. When the couple moved to bella Napoli, Matilde edited the newspaper Il Corriere di Napoli and in 1892 she and her husband founded Il Mattino which is still one of the most read daily papers in Naples. She also started her own newspaper – Il Giorno – and wrote many novels and stories. Matilde Serao was respected and well known during her life but almost ignored for a long time after her death because of her ambiguous political ideas and writings. Most recently her works have been reconsidered and brought to fame again.